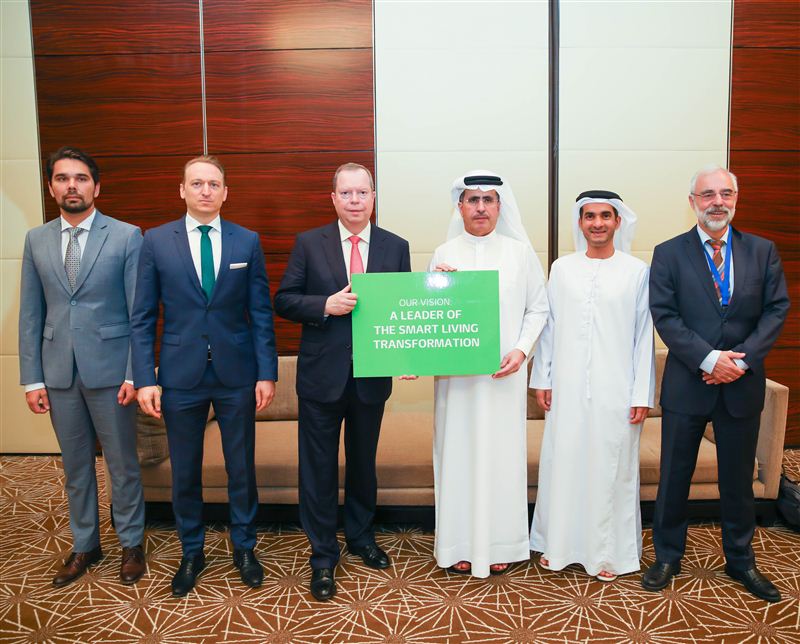 Dubai Electricity and Water Authority (DEWA) has partnered with innogy International to deliver a startup investment and incubator vehicle for a range of disruptive technologies.
His Excellency Saeed Mohammed Al Tayer, managing director and CEO of DEWA and Chairman of innogy IME, and Peter Terium, CEO of innogy SE have endorsed the new strategy for their joint venture company innogy International Middle East (innogy IME) during this year's 8th Dii Desert Energy Leadership Summit in Dubai.
innogy's Consulting business line, which already is well established in the Middle East, serves as an amplifier for market insights, client relationship and access to talent. innogy IME has a strong track record of implementing important strategic projects, including the "Dubai Clean Energy Strategy 2050 " as well as projects for the region's digital and green economy.
The Venture business line will focus on company building, start-up investment and incubation and cooperation with innovative companies in the world.
"This collaboration will rely on disruptive technologies to prepare for the Fourth Industrial Revolution to include the best international practices in artificial intelligence, Blockchain, robotics, smart furniture, sensors and mesh, connectivity, autonomous driving, innovative solar solutions, electric vehicles, energy demand side management and monitoring controls," Al Tayer said.
"We envisage the world of tomorrow as greener, smarter and more digital, with a high quality of life and happiness to achieve smart living.  The utility of the future will not be the utility of the past, but instead will be an infrastructure and service provider for Smart Living. Our Joint Venture will play a major role in leading the Smart Living transformation in the Middle East and beyond.
"In adherence with the UAE National Innovation Strategy, launched by His Highness Sheikh Mohammed bin Rashid Al Maktoum, Vice President and Prime Minister of the UAE and Ruler of Dubai, to transform the UAE into one of the most innovative countries in the world, and to support the Smart Dubai initiative of His Highness to make Dubai the happiest and smartest city on Earth, we have launched many promising programmes, initiatives and projects."
Terium said, "DEWA is our long-term and trusted partner in the region. Dubai is known in the world as a progressive and ideal environment to develop and implement the latest innovation in the smart living space. The refinement of our strategy ensures our ability to be a front-runner of this transformation."
"We aim to be a leader of the Smart Living transformation," said Pierre Samaties, managing partner and CEO of innogy International Middle East. "Therefore, innogy IME will focus on consulting and ventures in the three pillars of smart living."