Saeed Mohammed Al Tayer, MD and CEO of Dubai Electricity and Water Authority, DEWA, has inaugurated the two-day innovation exhibition at the solar garden in the Jebel Ali Power and Desalination Station Complex.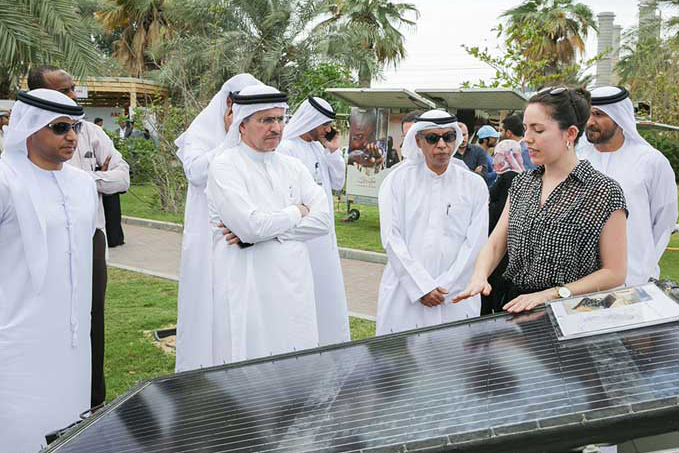 The initiative is part of DEWA's participation in the UAE Innovation Month, announced by the Vice President, Prime Minister and Ruler of Dubai, His Highness Sheikh Mohammed bin Rashid Al Maktoum, under the theme, "Innovation Starts with You."
According to WAM, the innovative solar garden is irrigated using the Potable Solar Desalination unit, which is one of DEWA's innovations to desalinate water using photovoltaic solar panels.
Al Tayer, accompanied by Nasser Lootah, Executive Vice President of Generation at DEWA, and Marwan bin Haidar, Executive Vice President of Innovation and the Future, reviewed the latest power generation and water desalination innovations by the Generation Division.
Al Tayer toured the accompanying exhibition and visited all the stalls, which were made from recycled materials by DEWA employees. He reviewed DEWA's innovations including the One-Way Data System, which received an international patent.
The exhibition features a Gas Turbine Smart Controller system based on artificial intelligence, AI, and self learning. A gas turbine simulation programme was designed specifically to conduct the necessary tests that lasted for one year, and it was then successfully implemented at the M station. It will be implemented across all the stations. This system will improve the efficiency and reliability of turbines and reduce Nitrogen Oxide emissions.
It also includes a Smart Supervision System, which was designed and developed entirely by the Generation Division. It is a smart system based on AI and digital transformation technologies, which enhance human capabilities in the speed and accuracy of paperless transactions, work permits, and no-objection certificates related to the Generation Division, instantly.
DEWA's innovation exhibition also flaunts technologies from its partners including Siemens, General Electric, and ABB.