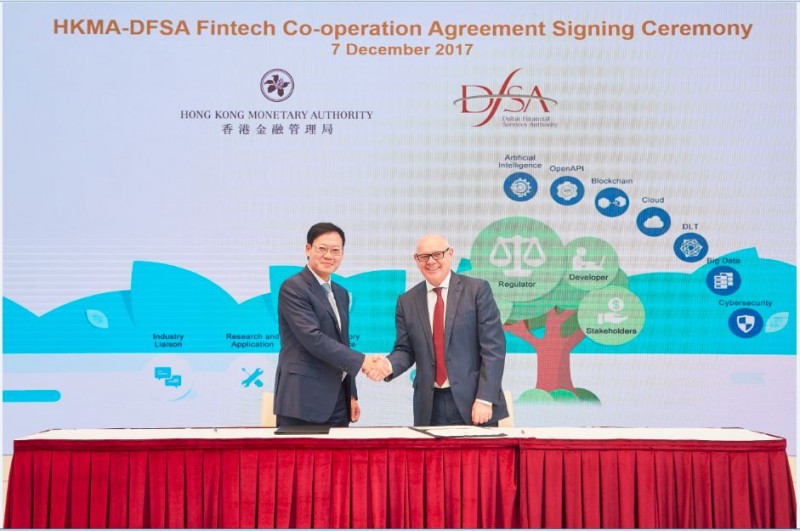 The Dubai Financial Services Authority (DFSA) has signed two cooperation agreements with Hong Kong to enhance collaboration in FinTech innovation.
The DFSA signed bilateral agreements with Hong Kong's Insurance Authority (IA) and the Hong Kong Monetary Authority (HKMA). Under the terms of each agreement, the authorities will cooperate on information sharing and referrals of innovative businesses. The agreement with the HKMA extends to collaborating on joint innovation projects.
Ian Johnston, chief executive of the DFSA, said, "Our agreement with the authorities in Hong Kong is indicative of the importance we place on maintaining a close relationship with Hong Kong's financial services regulators. The signing of these agreements in FinTech is a natural next step to the collaboration we have in regulating traditional financial services."
The agreements follow the signing of a similar cooperation agreement between the DFSA and Hong Kong's Securities and Futures Commission in August. It means that the DFSA now has agreements in place with all three financial counterparts in the Special Administrative Region.
John Leung, chief executive officer of the IA, said, "The IA takes proactive steps in strengthening collaboration with other jurisdictions in FinTech development. The agreement signifies closer cooperation between the two authorities in fostering and creating business opportunities for FinTech firms on a global reach. The IA will consider signing similar cooperation agreements with insurance regulators in other jurisdictions."
Shu-Pui Li, executive director of the HKMA, expressed his delight with the deal. "The cooperation agreement with DFSA showcases our efforts to work with the international FinTech community to facilitate the healthy development of the FinTech ecosystem. The HKMA will continue to explore potential collaboration opportunities with other authorities to support the upgrading of our banking system towards the higher level of smart banking."