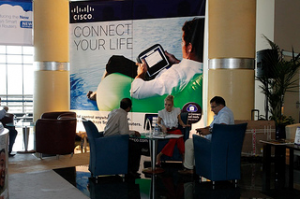 DISTREE has announced the dates of its upcoming Middle East event, and invited senior executives from leading ICT and ICE retailers in Africa, Turkey and CIS states to participate, along with the usual Middle Eastern suspects.
DISTREE said that the inclusion of these new areas will open up channel growth opportunities in fast-growing markets for exhibitors attending.
The event itself will be held from May 21 to 23 at Abu Dhabi's Fairmont Bab Al Bahr Hotel.
"The expansion of the retailer delegate base to cover the entire Middle East, Turkey, Africa and CIS (METACIS) region reflects the changing way that vendors are approaching and managing retail channels in this region," said Farouk Hemraj, CEO and Co-Founder, DISTREE Events.
"DISTREE Middle East will bring together senior retail executives from across the METACIS region in one place at one time. With a structured agenda based on pre-scheduled one-to-one meetings, this year's event offers a powerful channel platform for ICT and CE vendors and distributors looking to expand, manage or build new routes to market in this fast-growing region."
DISTREE Middle East attracts more than 600 senior executives each year, and is focused on business-to-business interaction between vendors, distributors and retailers.
"DISTREE Middle East allows delegates to schedule meaningful meetings with senior channel executives that align with their immediate business objectives," Hemraj added. "It is a 'must-attend' event for senior retail channel executives in the region. There are no consumers and no distractions. The even offers three days of meetings and networking opportunities in a professional and business-focused environment."
More than 1,000 prescheduled, one-to-one meetings took place at the most recent DISTREE Middle East. The inclusion of retail delegates from Africa, Turkey and CIS states will push this number higher for the 2013 event.