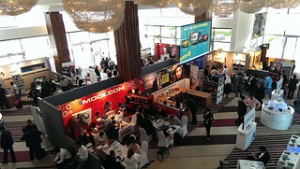 Delegates at the ninth annual DISTREE Middle East, held for the first time in Abu Dhabi last week, participated in 2,000-plus pre-scheduled one-on-one meetings, according to a post-event report.
Indeed, as a reporter hoping to catch a few off-the-cuff interviews in the Fairmont Bab Al Bahr Hotel's exhibition hall, it was clear that the 600-plus visitors' schedules were entirely full. Many stands were even left empty – on the first day, at least – as representatives from vendors frantically rushed from retailer to retailer for their next meetings.
The agenda was always going to be hectic one, even without the pre-scheduled meetings. The conference programme included a keynote speech from GfK, vendor presentations, expert-led workshops, panel discussions and an interactive Strategy Forum that allowed senior vendor, distributor and retailer execs to exchange views on market issues and discuss development objectives.
Sessions from Accelerate International, Context, Kiki-Lab (Ebeltoft Group), Navo, Retrak, Strategy & Teams, and VIA were also part of the conference.
DISTREE Middle East 2013 also provided a platform for dozens of brands to showcase their latest products to the region's biggest retail buyers with the popular 60 Seconds to Convince awards programme.
Later on during the three-day event, there was also the Middle East Retail Academy (MERA) 2013 Awards Gala Dinner, which celebrated retail channel achievements across the region over the past 12 months.
During the awards ceremony, delegates used a live electronic voting system to select winners across a number of vendor, retailer and distributor categories. Retailer winners included Alghanim, Carrefour, CompuMe, Emax, Khoury Home, Lulu and Souq.com.
In the distributor category, Redington emerged victorious, while vendor awards were given to Asus, Dell, Huawei, Linksys, Logitech, Promate, Samsung and Seagate.
More than 65 brands participated in the event, the report said. These consisted of everything from A-brand vendors to new regional players such as CAT Phones, which sees the Middle East as a strong growth market for its tough new Android device, the B15.
Distributors such as Pro Tech, meanwhile, showed off stunning next-gen products from the United States, hoping to capitalise on gaps in the market. The Pro Tech stand garnered plenty of attention thanks to a 3D printer the distributor was showing off on behalf of one of its partners.
Srinath Nagajaran, Business Head of Mobility, ME Tablet from HCL, said that 2013 was the second time his firm had visited DISTREE Middle East.
"It has lived up to its promise," he said. "It is a great platform for us to engage with the key retailers across the region."