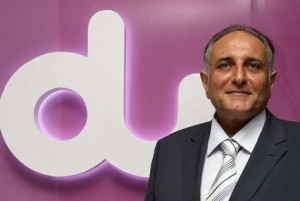 du has entered into an alliance to deliver data centre and interconnection services to customers in the Middle East, it announced today.
The alliance, with global interconnection and data centre company Equinix, will establish a carrier-neutral hub where carriers, content providers, cloud providers, and financial service and enterprise customers can store critical data infrastructure.
Similar hubs are located around the world, but this is the first of its kind in the Middle East region.
To underpin the alliance's initial business offering, Equinix has acquired and will operate a newly built international business exchange (IBX) data centre facility in Dubai, which has a capacity of 44,000 square feet and approximately 650 cabinets.
The first phase of the data centre is expected to be completed and open for business by January 1 2013. Equinix expects to invest approximately $40 million for the acquisition, upgrade and future expansion of the site.
du also announced the creation of its recently revealed datamena brand and said it expects to invest an equivalent amount to further grow the platform and service portfolio over time.
datamena constitutes a transit zone which allows international customers to host and distribute content and to trade data capacity in a cost effective way. datamena services will only be available in the data centres in the alliance, du said.
Along with investments in the datamena hub, du has also secured the capability to offer its enterprise customers du-managed data centre services and capacity.
"The alliance enables our customers to expand their digital footprint from a location where some of the fastest-growing markets in the world intersect," said Osman Sultan, CEO, du.
"The introduction of datamena and a carrier-neutral data centre will act as a catalyst for the next stage of internet development in the region. This resonates with the UAE's vision of enhancing its role as a regional business hub and to be one of the best places to do business in the world."
Through the alliance, customers of du and Equinix will benefit from close proximity to the UAE and regional market, and have the opportunity to connect to more than 4,000 customers across 'Platform Equinix'.
This brings significant advantages to customers looking to expand their global footprint and is expected to be a growth accelerator for businesses in the UAE and the rest of the Middle East region, said Eric Schwartz, President, Equinix EMEA
He added that UAE-based organisations will be able to gain competitive advantage through the provision of operationally reliable, highly resilient and secure data centre facilities located within country.
"The Middle East continues to strengthen its position as an important business hub and we are seeing increased demand from our customers for data centre services across the region.  We see Dubai and the UAE as a key business gateway and are excited to open a new data centre in the area to help facilitate growth. Many companies are looking to expand their operations into and out of the area, and we will be working with du to provide the connectivity and services they require to succeed," he said.
Furthermore, the alliance will allow du to offer network, interconnection and data centre services to its existing and growing UAE customer base.