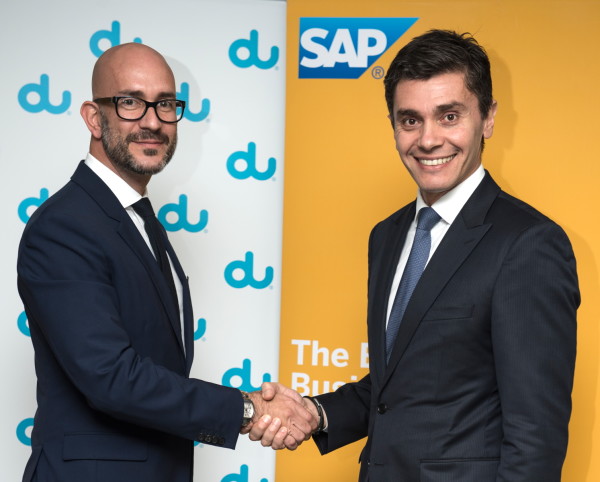 During the World Government Summit held recently, du and SAP signed a strategic partnership agreement that will enable UAE government enterprises gain access to smart applications in 2016.
According to both companies, the partnership works to support the commitment to nationwide digitisation and innovation. The UAE Vision 2021 aims for the country to become one of the Top 10 in the world in INSEAD's Global Innovation Index and in the World Economic Forum's Global Competitiveness Index over the next five years. Combining du's Infrastructure-as-Service with SAP's Software as a Service creates a unique off-the-shelf product – helping the UAE evolve to a cloud-based model, in line with global market trends.
In line with the UAE Vision 2021, and as a result of this strategic partnership, du will support UAE federal and local government agencies, and private enterprises, with SAP's innovative private cloud-based applications hosted on a data centre in the UAE.
"We're doing all we can to equip the UAE to become a global leader in innovation," said, Carlos Domingo, Senior Executive Officer, New Businesses and Innovation, du. "This partnership fast-tracks the adoption of world class digital services in the UAE by making them more cost effective and easier to attain. Now customers won't have to face a massive up-front investment to increase their productivity with these services – they will only pay for what they use."
Organisations using these applications, the agreement highlights, will be able to leverage the advanced network infrastructure of du, combined with the real-time analytics capabilities of the SAP S4/HANA business suite, which runs on the real-time SAP HANA platform.
Steve Tzikakis, Senior Vice President and General Manager, SAP South Europe, Middle East, and Africa, said, "With the market demand for private cloud applications growing in the region, SAP is further driving our co-innovation partnership with du to support the UAE's digital agenda. By leveraging global best practices and solutions, SAP is committed to using the power of the cloud to allow employees and customers to more easily engage with organizations."
du will offer organisations a wide range of back-end and customer-facing SAP solutions, including enterprise resource planning, human capital management for human resources, customer relationship management, marketing, and analytics and business intelligence.