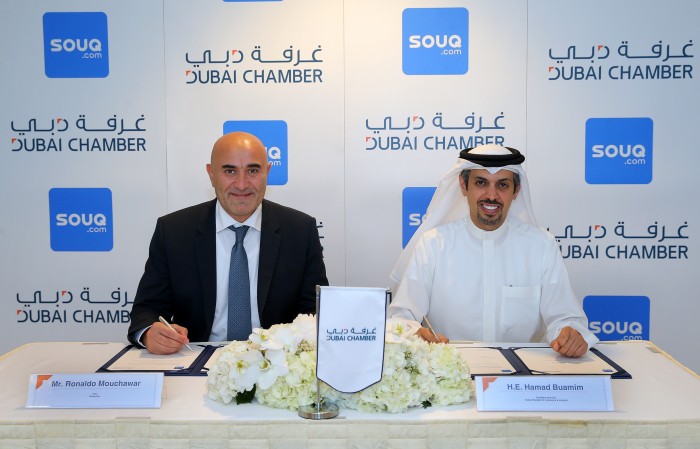 The Dubai Chamber of Commerce and Industry has signed a memorandum of understanding (MoU) with Souq.com in a move designed to facilitate cooperation between the two entities and expand Chamber members' access to the region's e-commerce industry.
Under the terms of the agreement, Dubai Chamber members can avail exclusive benefits offered by Souq.com, including free access to its Fulfilled by SOUQ services for a three-month period and dedicated on boarding training sessions. Some of these services also include special placement in search, customer service, and access to promotions.
Souq.com will promote Dubai Chamber's Trusted Member label scheme through existing seller programmes on the B2C platform, and collaborate with the Chamber on upcoming seminars and training programmes.
The signing ceremony was attended by H.E. Hamad Buamim, president and CEO of Dubai Chamber, and Ronaldo Mouchawar, co-founder & CEO of Souq.com, as well as other officials and top executives from the organisations.
Buamim said the MoU will facilitate long-term cooperation between the two entities, and noted that it can serve as a foundation for future partnerships. He said that the Chamber is keen to enhance the competitiveness of its members and business in Dubai within the e-commerce sector.
"We expect e-commerce activity to account for 10 percent of Dubai's total retail trade within the next few years," Buamim said. "Rapid growth within this sector presents a lot of potential which can be maximised through strategic initiatives and partnerships that help businesses keep pace with the region's fast-changing e-commerce."
Mouchawar said, "Our pioneer initiative Fulfilled by SOUQ empowers sellers to overcome e-commerce barriers and use our robust infrastructure and technology to grow their business online. This partnership with Dubai Chamber will assist more SMEs and entrepreneurs in the region to get significant exposure with access to millions of local customers."
Global e-commerce is projected to reach $4.3 trillion by 2025, accounting for 19 percent of total retail sales, according to analysis by Dubai Chamber based on recent studies conducted by Payfort and Business Monitor International. GCC e-commerce is expected to reach $41.5 billion by 2020, and the UAE is expected to lead the region with a share of around 55 percent, followed by Saudi Arabia (14 percent), and Oman (12 percent).