Dubai Electricity and Water Authority (DEWA) has hosted a Digital Day workshop for its staff, to discuss digital transformation within the entity and explore DEWA's plans to use artificial intelligence and robotics.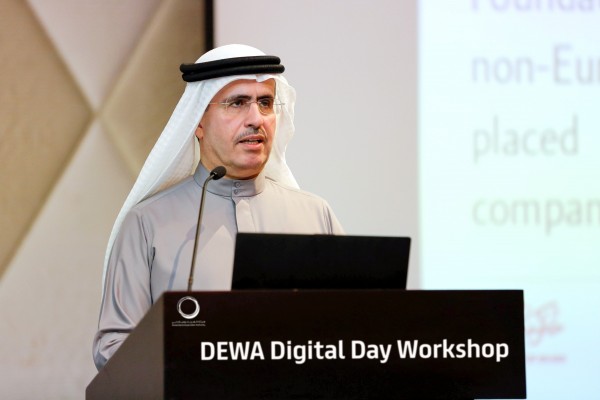 Experts from international organisations including Microsoft, SAP, Ernest & Young, and Navigant took part in the workshop. The event was held with a view to DEWA becoming one of the most prominent digital utilities in the world, in line with the Fourth Industrial Revolution that the world is experiencing.
Organising this workshop comes at a time when DEWA has accomplished many international achievements, receiving over 170 local and international awards over the past three years. These include the international excellence award by the European Foundation for Quality Management (EFQM) to become the first non-European organisation to receive this award. It also follows an earlier announcement that DEWA has appointed five robots as customer service staff within the organisation.
The workshop was attended by HE Saeed Mohammed Al Tayer, MD & CEO of DEWA, DEWA's executive vice presidents,  and a large number of staff from all divisions.
"The UAE, represented by DEWA, has achieved first place globally for getting electricity, according to the World Bank's Doing Business Report 2018. Nonetheless, we have learnt from our wise leadership that we do not rest on our laurels, even if we achieve first place. The next phase requires a lot from us to keep pace with the huge developments made around the world every day," said Al Tayer in his keynote address.
"I hope that this workshop will come up with effective results and recommendations that contribute to achieving our goals to make DEWA one of the most prominent digital utilities in the world, and contribute to Dubai's leadership of the future by reshaping traditional concepts of work mechanisms to cope with the rapid developments taking place in the world. This will achieve the vision of our wise leadership, to promote Dubai as an incubator for creativity and innovation so that we are at the forefront of cities that do not only foresee the future, but also create it," concluded Al Tayer.