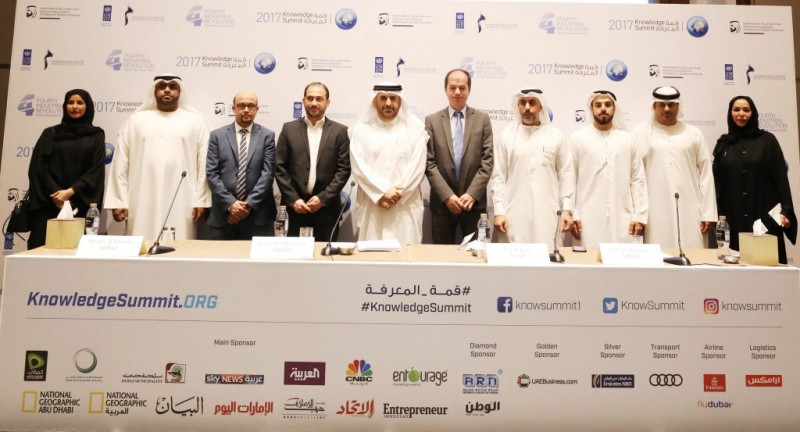 Held under the patronage of His Highness Sheikh Mohammed bin Rashid Al Maktoum, Vice President and Prime Minister of the UAE, Ruler of Dubai, the fourth annual Knowledge Summit will take place this week, bearing the theme "Knowledge and the Fourth Industrial Revolution."
The Mohammed bin Rashid Al Maktoum Knowledge Foundation (MBRF) is organising the event, which will provide a platform that brings together decision makers, thinkers, experts and pioneers in the knowledge industry, as well as scientists, academics and specialists from all around the world.
The topics of discussion will hone in on the pressing issues and challenges facing the industry, review best practices and experiences and offer solutions to meet the challenges.
The Summit, which will be held on Tuesday and Wednesday (21, 22 November), is also set to include the announcement of winners in the Mohammed bin Rashid Al Maktoum Knowledge Award 2017. This prestigious award seeks to honour those who have made significant contributions to the regional and international knowledge industry.
Similarly, the results of the Global Knowledge Index 2017 will be released during the Summit. The Index was launched by the Foundation in collaboration with the United Nations Development Program (UNDP) to study knowledge at an international level, identify opportunities and challenges in the Arab world and compare them with those of other countries around the world.
The Summit will also seek to shed light on the first, second, and third industrial revolutions, before tackling the subject of the Fourth Industrial Revolution – a.k.a. "The Digital Revolution" – which began at the outset of the 21st Century.
"Speakers at the 2017 Summit include influential experts on the Fourth Industrial Revolution from around the world," said H.E.Jamal bin Huwaireb, MBRF's CEO. "Each speaker brings a wealth of experience and insight to the Summit, as well as success stories in their respective fields. This serves to enrich the brainstorming sessions with creative insight and ideas that seek to help societies take advantage of the most promising prospects of the Fourth Industrial Revolution, in order to build knowledge-based societies and maintain sustainable development."
Speakers include Majed Al Suwaidi, Managing Director of Dubai Media City; Ludovic Blecher, Head of the Google Digital News Innovation fund; Larry Birnbaum, Co-Founder and Chief Scientific Advisor at Narrative Science; Will Moy, Director of Full Fact (an independent fact-checking charity); and Abdel Mohsen Salama, Head of the Egyptian Press Syndicate and Chairman of Al-Ahram Newspaper.
In a session tackling artificial intelligence, Dubai Police's General Director of E-Services Department Khalid Alrazooqi will be joined by David Hanson, Founder and CEO of Hanson Robotics – the company behind the famous 'Sophia' robot, that recently gained Saudi citizenship.
For agenda-related information, visit the Knowledge Summit website.