Smart 'palm trees' have been installed across numerous Dubai beaches to offer tourists and residents alike free WiFi.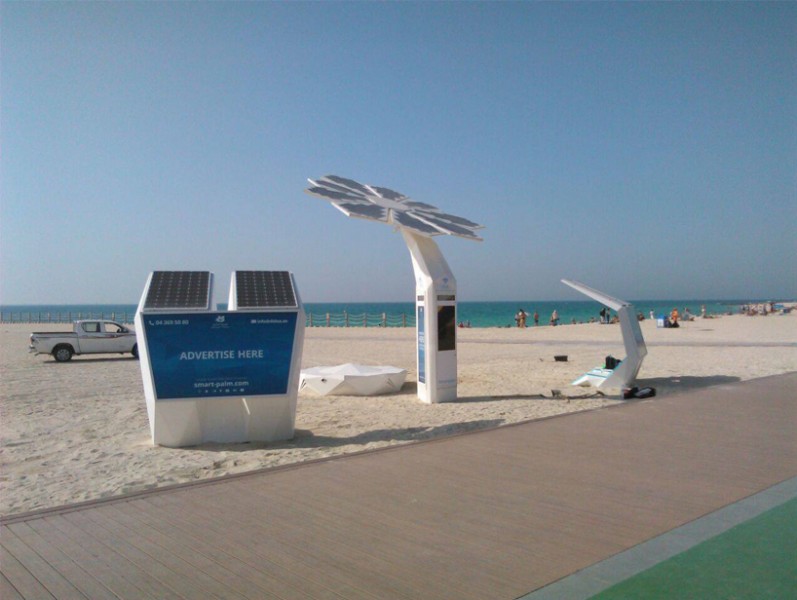 The trees are part of the emirate's Smart Palm project and were installed throughout the city in preparation for the World Expo 2020, according to reports.
Apart from providing WiFi connectivity, the Smart Palm trees have a variety of other functions as well including several security features as well. The unit comes equipped with a 360-degree infrared CCTV camera as well as an emergency button to notify authorities.
and the touch screen provides city information and public messages of importance from the government.
What's more is that each leaf of the Smart Palm features specially designed solar panels to make it completely power autonomous. It also has a digital outdoor screen, which provides space for public messages, government notices and commercial advertisements.
It also serves as a relax point and battery recharge station – seating areas are provided and its recharging points are able to re-energise electronics 2.5 times faster than regular stations.
More than 103 Smart Palms have already been installed across the city including on Al Mamzar Beach, Al Mamzar Corniche, Jumeirah 1 Beach, Jumeirah 2 Beach, Jumeirah Beach Road, Umm Suqeim 1 Beach, Umm Suqeim 2 Beach, JBR and Dubai Marina Beach.
The panels also power green LED lights, which does not only make the trees aesthetically pleasing, but it also makes them easier to spot during night time.