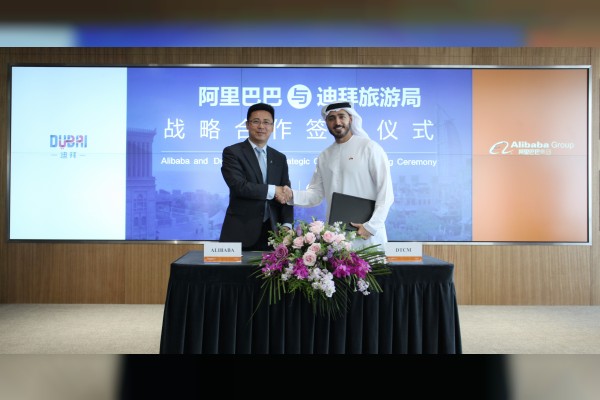 Dubai's Department of Tourism and Commerce Marketing (Dubai Tourism) has recently signed a Memorandum of Understanding (MoU) with Alibaba Group's online travel service platform of the global leading technology company – Fliggy.
The MoU is aimed at boosting the number of Chinese tourists visiting Dubai through closer collaboration in integrated 360-marketing campaigns to strategic high-growth segments.
The newly-signed MoU entails among other aspects, collaboration between the partners to deliver an enhanced travel experience for Chinese visitors to the emirate by providing easy access to Dubai's travel products and information, initiating a payment scheme and the likes.
In addition, Dubai Tourism would continuously maintain and update the 'Dubai Destination Mall' page on Fliggy, providing a comprehensive overview of the city's tourism proposition to the broad customer base that Fliggy delivers. Fliggy in its turn has committed to resources to help Dubai stakeholders register as vendors on the Fliggy platform.
The deal was signed by Issam Kazim, CEO of Dubai Corporation for Tourism and Commerce Marketing (DCTCM) and Jerry Hu, VP of Fliggy and Alibaba Group, as part of a broader long-term alliance discussion at the Alibaba headquarters in Hangzhou in China.
Issam Kazim, CEO of DTCM, said, "As one of China's leading travel platforms, Fliggy is the natural travel partner for Dubai Tourism. China is one of Dubai's fastest growing source markets (with 258,000 Chinese tourists visiting the city in the first quarter of the year alone, a 12% year-on-year increase), but it is also one in which consumer demands and expectations are evolving at a dramatic pace. It is essential that we keep abreast of these developments."
Kazim highlighted that the demand for independent travel is growing, with a large proportion of Chinese tourists preferring to make their own arrangements and travel without a tour guide.
"The agreements made in the MoU will provide Chinese visitors to Dubai with a unique service, alongside latest travel information before and during their trip via the Fliggy platform," Kazim added. "The company's strong connection to Chinese consumers along with its robust operational reach are essential as we seek to attract more Chinese tourists to visit Dubai in the lead-up to 2020 and beyond."
As well as signing the new MoU, the meeting between both firms aims to strengthen the relationship between Fliggy and Dubai Tourism, for future opportunities. Dubai Tourism also seek to work more closely with Fliggy and businesses in Alibaba's comprehensive digital ecosystem.