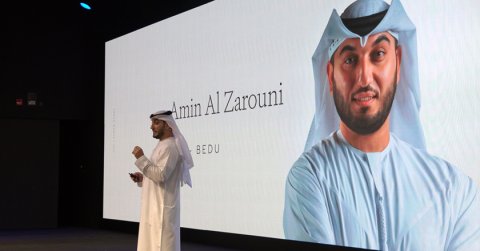 BEDU recently announced a bold strategy set to change how individuals and enterprises engage with the digital realm. The announcement comes at a time when the company is targeting substantial growth and regional industry leadership through a pre-seed investment round.
Over the past 18 months, BEDU has achieved significant milestones in its continued investment in innovation. The company showcased its leadership in emerging technology by launching the Virtual Mars Experience 2117 in partnership with the Mohammed bin Rashid Space Centre. BEDU's community-building efforts include leveraging blockchain for societal engagement – a reflection of its tradition of identifying and capitalising on emerging trends, through bringing digital collections such as 'From Desert to Mars' and 'Colonies on Mars'. Leading to BEDU making an impact at Art Dubai 2023, as it showcased the role that technology and Web3.0 are playing in the Art space.
The global AI investments projected to reach $110 billion by 2024 and by 2030, the market impact of AI is expected to be even more significant, with estimates indicating that AI could contribute up to $15.7 trillion to the global economy. With that BEDU's long-term vision, announced today, represents fertile ground for investment. The company will bring AI and blockchain into industries to redefine them, harnessing the farthest outskirts of tech to bring new user experiences that connect, engage, and entertain.
"We're at an exciting juncture", said Amin Al Zarouni, CEO, BEDU. "Our vision, coupled with this investment opportunity, represents a unique chance for investors to be part of a transformative journey. With our portfolio of innovations and a pre-seed round, we're poised to forge a future that will shape the very essence of the digital realm".
The main pillar of the company's vision and its flagship is the AI Builder Tool, an agnostic platform that can be used by all types of people, organizations and enterprises to build their digital and virtual experiences which will contribute heavily to the future of the internet.
In addition to that, the company announced BEDU AI, a portfolio of impactful products and services that include, a market-ready platform that uses AI to streamline media management in recognition of the rapidly growing need for effective asset management in a content-driven world. This includes advanced natural language processing (NLP) and machine learning that redefines document processing across industries from finance to legal, automating tedious tasks that prevent professionals from focusing on higher-value activities. And an advanced AI solution to process voice and visual data and enable real-time insights which are frontier capabilities with use cases in arenas from security to healthcare.
"Today, we're setting the stage for a paradigm shift in the digital landscape", said Khaled Al Huraimel, Co-Founder and Chairman, BEDU. "Our vision that encompasses the convergence of Web3.0 and AI, is at the helm of reshaping industries and human experiences. As we embark on this transformation, we invite likeminded visionaries to join us in this journey where innovation knows no bounds and technology drives endless possibilities".
BEDU's pre-seed round is aimed at opening the door to regional growth. The funding will allow BEDU to enhance its delivery speed, extend its reach, and reinforce its position as an industry leader as it turbocharges its prolific R&D function and its flagship platform development.