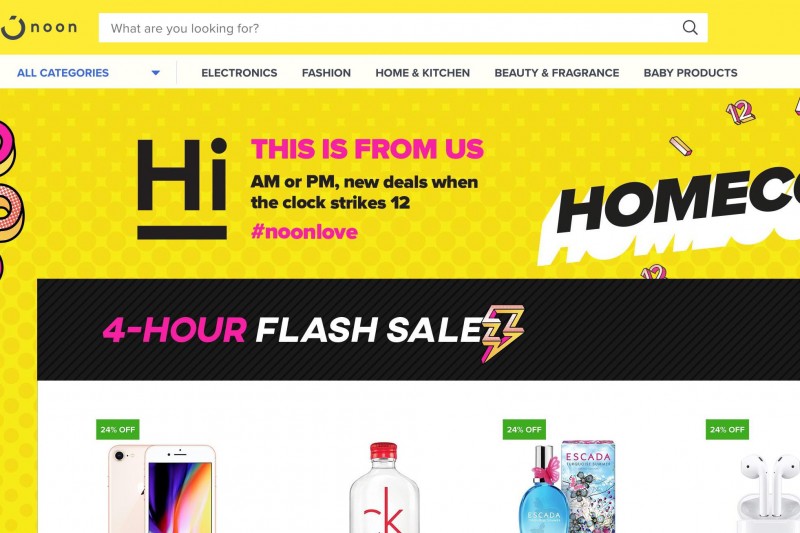 Regional e-commerce platform Noon will launch in Saudi Arabia today, its chief executive told the news portal Zawya. 
The site, which is backed by Dubai billionaire Mohamed Alabbar and the kingdom's sovereign wealth fund, the Public Investment Fund, launched in the United Arab Emirates at the end of September, with mobile apps being made available at the same time.
"We will go live in Saudi Arabia tomorrow and that is very exciting for us,"Faraz Khalid, the CEO of Noon told Zawya on the sidelines of a conference in Abu Dhabi on Monday.
"We have agreements with M.H. Alshaya Co and eXtra. Those partnerships are key relationships within our regional scope," he added.
Kuwait's retail operator M.H. Alshaya Co. acquired a strategic stake in Noon in September, but the size of investment in the business was not disclosed.
Noon recently signed an agreement with Saudi electronics firm eXtra to be an exclusive partner of consumer electronics and home appliances brands.
When asked about where next Noon will go live, Khalid told Zawya: "We will focus on UAE and Saudi Arabia for now."
Khalid said during a panel debate discussing the entrepreneurship scene in the Middle East at the Bloomberg Invest Abu Dhabi conference: "One of the biggest roadblocks to good e-commerce in this region is lack of reliable infrastructure. If you are in the West, you could give your package to DHL or UPS and that is where your job ends,"
"In this part of the world, you need to transport the package, build a customer hub, and deliver the package …  and that is almost even more complex than building the e-commerce venture itself," he said.
A reliance on cash payments in the region is also another obstacle to e-commerce growth, Khalid noted.  He said that fast-tracking digital payments would help to boost e-commerce businesses.
Khalid was previously the managing director and co-founder of Namshi, an e-commerce fashion retailer owned by Rocket Internet until Emaar Malls bought a 51 percent stake in the company in May this year. He was later appointed as the CEO of Noon in July.
Earlier on Monday, Noon's major competitor in the Middle East, Souq.com, announced in a press release that its customers could now access one million products through the Amazon Global Store. Souq.com announced in March this year that it was being bought out by Amazon. The deal was completed in July.
Join the Tahawul Tech communities on Facebook and LinkedIn to comment on topics that are top of mind.