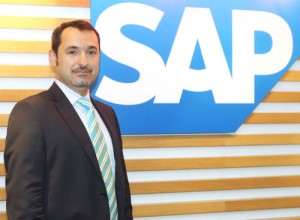 The Middle East and North Africa (MENA) region's business leaders need to embrace enterprise mobility, or they risk suffering rapid "competitive stagnation", according to SAP.
Speaking ahead of Mobile Show Middle East this week, Deniz Kilyar, Head of Line of Business and Mobility Solutions, SAP MENA, said that the region is facing an "unprecedented enterprise mobility boom".
"2013 will be the biggest year yet for enterprise mobility, and the MENA region needs to be ready and able to embrace an unwired 'anytime, anywhere' mentality," he said.
"More data was generated in the last five years than in the entire history of mankind. There are now more mobile devices than people on the planet. Everywhere you look, enterprise mobility is undergoing an unprecedented boom, making it an unavoidable imperative for businesses that want to lead. Increasingly, those that cannot operate with nimble and efficient ubiquity will face competitive stagnation."
There is no doubting Kilyar's assertions that enterprise mobility is booming, if analyst reports are to be believed. Research firm MarketsandMarkets suggests that the global BYOD and enterprise mobility market will reach $181 billion by 2017, up from $67.21 billion in 2011.
IDC, meanwhile, says that the enterprise app market could grow to $7.7 billion by 2015. And Gartner recently said that small and medium enterprise (SME) mobile connectivity to enterprise business will grow by 25 percent this year.
"Today, businesses need to tackle explosions of big data and act in real time. This cannot be achieved without mobility," said Kilyar.
Of course, Kilyar admitted that SAP hopes these estimates to be true, as the vendor has brought to market a number of mobile enterprise apps. In 2012, the firm acquired Syclo, which helped it build mobile solutions in spheres such as utilities, oil and gas, and manufacturing. The acquisition also contributed to the deployment of mobile asset management and field service solutions on SAP's Sybase Unwired Platform.
SAP says that it offers 70 mobile applications to customers, and 200 more are being developed. The vendor has also rolled out a redesigned app store, from which it hopes customers will purchase enterprise apps on their mobile phones.