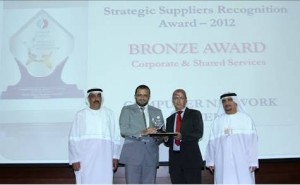 Computer Network Systems (CNS) recently received the Strategic Suppliers Recognition Award 2012 from ENOC for its role in contributing to ENOC's "Corporate and Shared Services" during 2012.
The award was presented to CNS by Saif Al Falasi, Executive Director, ENOC, and Abdulsalam Al Hammadi, Director of Procurement and Contracts, ENOC, during the Strategic Suppliers Recognition Awards ceremony held at the InterContinental Festival City, Dubai.
The ceremony is part of ENOC's "Strategic Relationship Management" programme, which was initiated by the department to nurture ENOC's partnerships and strengthen the quality of services.
The award was received by John Wilson, Head of Services, CNS, and Mohammed Jamoos, Senior Account Manager, CNS.
"We are proud to be recognised as ENOC's strategic supplier for the corporate and shared services. This demonstrates our team's dedication and efforts in providing the best services with the highest level of quality," said Ihab Al Saheli, General Manager, CNS.
"Being one of the 15 honoured selected companies, out of the 154 companies short-listed from over 1,500 active suppliers for ENOC, is a great privilege for CNS. This reiterates our position as a leading regional systems integrator and managed services provider."