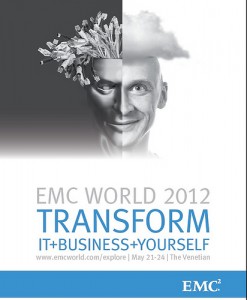 At EMC World 2012, EMC Corporation today introduced its largest-ever wave of new transformative products and technologies–42 in total. Today's announcements mark the company's most significant single-day launch of new capabilities for customers and partners, delivering a sweeping refresh that spans key products across its entire information storage, backup, virtualisation and management portfolio. The purpose of these solutions is to make it easier for customers to take advantage of the shift to hybrid cloud computing, with data at its core.
"Throughout the evolution of IT, the data itself has remained the ultimate source of value. We build 'data centres,' not application or server centers; but rigid technology constraints effectively forced data to a lower priority. The onset of virtualisation, cloud computing and big data analytics, however, have restored data to its rightful place as the center of IT gravity. The shift is swift and irreversible, from dedicated infrastructure silos built around specific applications where data is either locked in a specific application or orbits the periphery, to a data-centric approach to computing. Today's EMC announcements address this fundamental shift head on and deliver to customers the next wave of technology required as they transform their IT, their business and themselves," said Pat Gelsinger, COO and President for EMC's Information Infrastructure Products.
The products launched today include the new VMAX family, a line up of enterprise storage arrays, consisting of the VMAX 10K, VMAX 20K and VMAX 40K options. Complementing the new EMC VMAX Family is a host of new software capabilities that streamline operations and extend the market-proven VMAX to new hosts and applications, while integrating customers' existing storage assets into an integrated and unified pool of storage resources.
The company also announced new VNX unified storage enhancements that transform the midrange storage market. The new channel-only VNXe®3150 delivers 50% more performance and capacity per rack unit. New VNX software lowers the starting price for Flash, delivers single-click application protection, and simplifies management in virtualized environments. In related news, EMC and VMware today extended their partnership to develop, sell and deliver storage analytics for VNX unified storage.
EMC has also brought together VPLEX virtual storage with EMC's RecoverPoint data protection to define a new standard in hybrid cloud availability and protection. The company claims that this combination delivers the industry's first solution to combine active-active data centres with third site disaster recovery protection.
In addition, last week EMC introduced the EMC VMAX Service Provider (VMAX SP), a new platform that is purpose-built to deliver enterprise-class storage to service providers using a simple-to-consume and simple-to-manage approach. Rather than service providers purchasing individual storage, software and service components, then spending time and effort integrating them, they can now buy VMAX SP which is pre-packaged based-on service-level options enabling them to deploy new cloud services.
The company also announced enhancements to the Atmos Cloud platform  and the new DataBridge enterprise management tool to empower IT operations teams.
CPI Technology's Senior Editor Sathya Mithra Ashok is reporting live from the event floor through all days of EMC World 2012. Keep reading www.cnmeonline.com for updates.