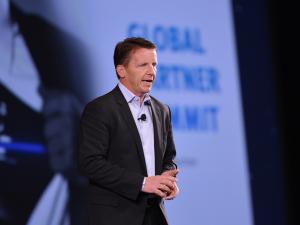 EMC today unveiled a new product initiative called Project Nile, which it expects will be the world's first commercially available, complete Web-scale storage infrastructure for the data centre when it launches in the first half of next year.
The machines will provide an "elastic cloud storage platform" that is focused on delivering private cloud control, security and flexibility, with the scale, economics and ease-of-use generally associated with the public cloud, EMC said.
They will boast a fast and simplified buying process — receiving a complete system within 48 hours — and will directly challenge Web-based storage services from the likes of Amazon and Microsoft, the company added.
EMC will utilise technologies from its software-defined storage platform, ViPR, and unified storage family, VNX, in Project Nile, which will do block, file and object at Web-scale. President and COO David Goulden called the initiative "revolutionary".
As data continues to explode, organisations around the world are looking for ways to store it in an easy and affordable way. Amazon has taken a clear lead in the public cloud space by providing an online platform for such functions.
However, many customers have cited security and trust concerns as holding them back from entrusting more sensitive corporate information in the cloud.
Until now, there hasn't been a product which fully encompasses the productivity and cost benefits of Web-based services, whilst allowing customers to keep their data in-house.
With Project Nile, EMC is taking a huge bet to combat Amazon and Microsoft's attempts to lure customers away from its high-end storage products, by offering a legitimate alternative to the more security-conscious CIOs.
With the products not set to be launched until next year, it may be too early to speculate on economics. However, Jeremy Burton, Executive VP, Product Operations and Marketing, EMC, has already predicted the new range of products will cost 40 to 60 percent less than public cloud options.
"To be competitive, we plan to deliver these systems at a lower price point than Web-scale providers do today," Burton said. "And we plan to make them as easy to buy and as easy to consume as public cloud services.
"So a CIO will be able to implement this infrastructure at a lower cost than handing over company data to Web-scale public cloud providers. And service providers will be able to stand up their own services to compete with the big guys."
Burton added that public cloud offerings can actually be a lot more costly than people presume, and, on price point alone, there is an opening in the marketplace for what EMC is planning to offer.
"Even customers who use them today will acknowledge that public clouds are not cheaper over the long run," he said. "Their attractiveness is quick and convenient deployment, which we plan to offer with a new go-to-market model for EMC: go online, order what you need, buy it, and use it in your data center.
"To make it easy for our customers, we'll simplify and streamline the configuration process. Our vision is that you'll be able to go to emc.com, like you would any e-commerce site, and optimise your systems for file, block, or object storage.
"Avoid the wait times of submitting a ticket with internal IT Help Desks while your CIO avoids the aggravation of unauthorised, noncompliant shadow IT."
CNME Editor Ben Rossi is reporting live from EMC's Speed To Lead event in Milan. Follow Twitter updates at @ComputerNewsME and #SpeedToLead.