Dubai, 04 January, 2021: Emirates NBD, a leading banking group in the Middle East, North Africa and Turkey (MENAT) region, today announced that it has been named 'Bank of the Year – UAE 2020' for the sixth year in recent years and 'Bank of the Year – Middle East 2020' for the third time by The Banker. The bank was recognised for its effort in the region in responding to the global pandemic and its pioneering approach to innovation in digital banking.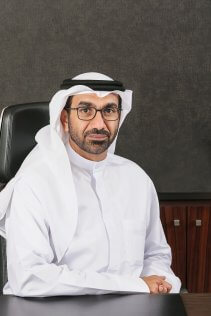 "Emirates NBD is honoured and proud to be recognised as 'Bank of the Year – UAE' for the sixth year and 'Bank of the Year Middle East' for the third time by a prestigious institution such as The Banker," said Hesham Abdulla Al Qassim, Vice Chairman and Managing Director, Emirates NBD. "Our response to these unprecedented times has been defined by our commitment to our people, our customers and the community as we made every effort to help them stay safe and navigate challenges, while ensuring their financial security and economic wellbeing".
Al Qassim continued, "Our long-term focus on digital banking has distinguished our efforts and enabled us to stay resilient and responsive to our customers' needs. As we look ahead, we aim to continue to support our stakeholders and contribute to the national effort towards a sustained economic recovery".
The bank was among the first UAE-based entities to implement remote working and precautionary measures for employees, providing tangible support, including a mental health helpline for employees and their dependents, during this challenging period.  Moreover, as a front-runner in digital banking, the bank's robust digital infrastructure enabled it to deliver uninterrupted banking services to customers and businesses via its Mobile and Online banking channels, despite movement and social distancing restrictions. Importantly, as part of its leadership role, Emirates NBD rolled out relief measures to customers and business clients in several markets in addition to contributing to community initiatives.
In addition, the bank continued to advance its digitalisation agenda enabling customers to open accounts instantly from their smartphones. Its Liv. digital lifestyle bank is the fastest growing bank in the UAE. Emirates NBD Voice Banking was launched enabling customers to obtain account and card updates on their Amazon Alexa devices. Furthermore, Smart Pass, a two-factor authentication soft token-based transaction authorisation feature was extended to all customers.
In November, the bank unveiled its next-generation global banking platform, 'businessONLINE', to provide their corporate clients with a single-window, seamless, secure and agile platform to support all their banking needs, across geographies. The group-wide, single instance, multi entity platform delivers a full suite of cash management, trade finance and liquidity management solutions to the bank's clients – ranging from small and medium sized businesses to large corporations and government institutions. Emirates NBD's subsidiary, Emirates NBD Capital, continues to be a market leader in emerging market investment banking across its chosen products. It has been ranked first for GCC and UAE public offerings each year since 2016.