CNME Editor Mark Forker spoke to Mike Hogan, Director, Middle East & Africa at Enterprise Ireland, to find out how the government agency helps innovative Irish SME's penetrate markets across the Gulf region.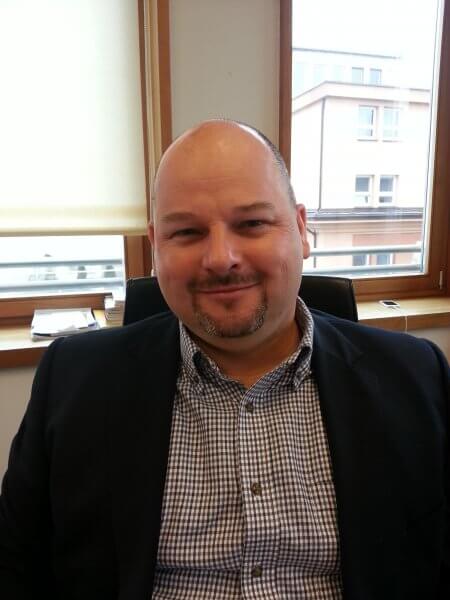 Hogan has enjoyed a distinguished career with Enterprise Ireland, and prior to assuming his current role here in Dubai in 2017, he was responsibility for helping dynamic Irish companies access markets in Central Eastern Europe, Central Asia and Russia.
Hogan explains the mission statement of Enterprise Ireland and articulates how they've fostered an environment specifically designed to allow innovation, creativity and entrepreneurship to flourish.
"In Ireland we have two sides to our economy in terms of business. We've got a piece that brings foreign direct investment in and we've done that very successfully, and other piece which is focused on growing indigenous Irish businesses. Enterprise Ireland helps companies from the moment of their foundation to grow until they have a product or service that is capable of being exported," said Hogan.
Enterprise Ireland enables companies to grow through various ways such as consultancy, financial assistance packages and a venture capital fund for high-potential startups.
"We essentially provide a framework and structure which helps those companies to develop, and then when they get to the stage where they have an export-ready product or service then we have a network of 34 offices worldwide that helps them break into new markets," said Hogan.
Hogan conceded that whilst they do work closely with many large companies, they typically work with companies that tend to be small to medium size businesses and was blunt in terms of what their primary objective is.
"The range of services we offer companies overseas in particular would be consultancy, market-entry and how to scale the market. Realistically, I could put a lot of fancy names on it, but at the end of the day a lot of the things we do and the initiatives we have is about putting an Irish company in front of a potential buyer," said the Director of Middle East & Africa at Enterprise Ireland.
Enterprise Ireland's footprint in the Gulf region stretches back to the 80's when they established an office in Riyadh. They expanded operations by opening an office in Dubai in 2003 – and have continued to expand as the Middle Eastern market continues to open-up and become more attractive for foreign investment.
Hogan points out that Ireland's historical lineage in terms of exports was teaching, horses, duty-free, medicine and construction, but highlighted that now there is a huge level of diversity in terms of what industries the companies operate in.
"Where we have a lot of activity in is in areas of technology such as ICT, Internet of Things and FinTech. In FinTech we have a burgeoning reputation as a center of excellence. In terms of healthcare, Ireland is the No.2 exporter of medical devices in Europe, and we've got a lot of Irish companies that have worked hand in hand with multinationals over the years to develop their own products and services in healthcare and pharma," said Hogan.
Enterprise Ireland like so many other businesses have been affected by the ongoing Covid-19 pandemic that has grounded flights, disrupted supply chains and ground the global economy to a halt.
Hogan said that Saudi Arabia had been a major focus for many of the companies they were working with, but Covid-19 has now forced them to deviate away from that strategy and admitted that many enterprises were still trying to grapple with the fallout caused by the outbreak.
"Six weeks ago, we were still very much focused on Saudi Arabia, because Saudi had really opened-up, in a big way, and we had a lot of pent up demand and interest in companies going into the Saudi market. That's completely changed now, as we have travel bans in place. There are two elements that are now at play, one is the shock affect. A significant number of our companies are still coming to terms with what is happening and a lot of their plans in terms of future growth have gone out the window. Essentially what they're looking to do, is hold on to what they have and maintain what they have to the best of their ability, so we're not in business development mode anymore, we're in business protection and stability mode," said Hogan.
Saudi Arabia is undergoing an ambitious reformation under the tutelage of Crown Prince Mohammad bin Salman and the foundation of these new reforms are his Saudi Vision 2030 plan which is specifically designed to help diversify its economy and reduce its dependence on oil.
Hogan believes that Saudi Arabia represents huge opportunities for dynamic Irish companies and stressed how its new visa regime has completely changed the landscape for SMEs.
"The single biggest thing that happened in Saudi Arabia was the decision last year to reform its visa regime. It was the single biggest act. For years, we would have had clients that would've loved to have gone into Saudi, but they were looking at the price equivalent of airfare to go to Saudi just to get a visa, and if you're a small to medium sized business then that was a massive barrier," said Hogan.
According to Hogan, if Saudi Arabia continues with its policy regarding visas in the changed environment, then it opens-up the market in a much bigger way for companies to go in and out, and to more freely exchange and conduct business, but he countered this by saying that Saudi doesn't have any other choice but to continue on this path.
"If you're looking at a world of lower oil prices where let's say people are moving to more benign methods of energy, then Saudi Arabia doesn't have any other choice in many ways. They're moving towards a more balanced economy, and that sort of diversified company is going to provide a plethora of new opportunities for Irish companies," said Hogan.
Hogan was also keen to point out that the key to all of this in Saudi Arabia is demographics.
"You've got a young population that is tech-savvy, and when I look at an economy like Saudi people are very fond to look at things like GDP and growth, but I'm more interested in what people are doing. How do they live their daily life, how do they interact with their environment and how do they buy things and interact with one another?" said Hogan.
The Enterprise Ireland director also argues that in the tech space these demographics are a more important gauge, because in Saudi Arabia you have a scenario in which they're moving to an e-government online service delivery model.
"This type of ecosystem is going to offer opportunities for tech solutions, and when you look at the demographics which indicate that 50% of the population is under 25, and the population is continuing to expand rapidly, then that's an environment for a tech company that is very attractive. Saudi also doesn't have a domestic ICT industry, and there is also a very high propensity of Saudi buyers that want to acquire the best and latest in foreign technologies, so it's a market that represents a lot of opportunity for Irish companies, and it's our responsibility at Enterprise Ireland to help them access the market," concluded Hogan.