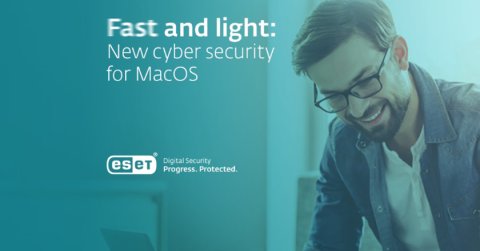 ESET, a global leader in cybersecurity, today announces several enhancements to its popular ESET Cyber Security for macOS product line, designed to provide essential protection for Apple users from a variety of modern-day cyber threats. ESET Cyber Security for macOS v7.3 now features native support for ARM and automatic updates to ensure optimal protection at all times.
ARM has become increasingly popular as a chipset in recent years due to its ability to boost performance whilst keeping energy waste to a minimum, so much so that the ARM-based mobile computing market now outperforms the legacy x86-based mobile computing market in both revenue and units1.
"We've been working on native support for ARM for some time, to enhance the protection we can provide customers that rely upon Apple devices", comments Mária Trnková, vice president of ESET's Consumer and IoT segment. "The changes we have made to the underlying architecture of ESET Cyber Security for macOS bring greater stability and higher performance, making scanning quicker and more efficient than ever before."
The new underlying ESET Cyber Security for macOS architecture is based on micro-services, meaning components run in a more secure and performance-optimal manner. This provides higher stability and resiliency, and the solution is also more lightweight than ever before. Micro-services are lighter on resources, helping to save battery life. In other words, each component of ESET Cyber Security for macOS starts only when needed and runs for its allotted time, after which it is automatically deactivated, helping to save on device resources.
The new automatic updates component of ESET Cyber Security for macOS ensures that users are provided with optimal protection, allowing the solution to find and download updates as soon as they are released.
The latest version of ESET Cyber Security for macOS also boasts an improved multilanguage installer that contains 24 different support languages. Language is set according to the system language upon installation, and the user can subsequently change it by using the macOS language and region settings. This streamlines installation and provides peace of mind for the user.
There is also a redesigned graphical user interface (GUI) for ESET Cyber Security for macOS v7.3 that fully supports dark mode in HiDPI, thus saving on device resources. Further advanced configuration will become available later in 2023.
ESET Cyber Security for macOS v7.3 includes several other components of ESET's award-winning functionality that users have come to expect, including:
Anti-Phishing – protecting users against malicious HTTP websites attempting to acquire their sensitive information, whether that be usernames, passwords, banking information or credit card details
Antivirus and Antispyware – eliminating all types of modern-day threats, including viruses, worms and spyware
Cross-platform Protection – stopping malware from spreading from macOS to Windows endpoints and vice versa. This prevents a user's macOS from being turned into an attack platform for Windows-targeted threats
ESET LiveGrid® technology – whitelisting safe files based on a file reputation database in the cloud
Web and Email Scanning – scanning websites during browsing and checking all incoming emails for viruses and other threats
"ESET Cyber Security for macOS v7.3 includes multiple layers of real-time protection, anti-phishing and web and email protection that ensure peace of mind for Apple users when browsing online", comments Mária Trnková. "Powered by the advanced ESET LiveGrid® technology, the solution combines speed, accuracy and minimal system impact, leaving more system resources for consumer needs".
Further information can be found here.