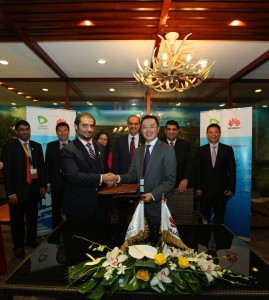 Etisalat and Huawei have announced the signing of a new agreement that will see the two companies deepen their cooperation in pioneering 5G telecom broadband services over the next five years across the Middle East region. 
A joint team will be set up to conduct the trial of 5G services, which are the first of their kind across the Middle East.
"Etisalat has been committing to enhance the customer experience through nurturing advanced technologies," said Hatem Bamatraf, Chief Technology Officer, Etisalat Group. "5G mobile network aims to tremendously improve user's experience with never seen before speed and capacity. The superfast 5G mobile network will enable new possibilities and offers seamless communication experience. We always fulfill our promise to the communities we serve while maintaining the leading position in the region."
By 2020, it is estimated that 6.5 billion people worldwide will use mobile networks for data communications and that 100 billion additional 'things', such as vehicles, meters, medical devices, and home appliances, will also be connected via mobile networks.
"We have already achieved many breakthroughs in 5G research worldwide as people, business and cities become further digitally connected," said Alan Wang, President, Huawei-Etisalat Global Key Account..  "The future of the digital society in the region will of course take a collective effort to realise. As Huawei extends its longstanding relationship with Etisalat, we look forward to opening up new possibilities that can address society's demand for higher-capacity, seamless mobile communication experiences."
While 4G telecom services are still relatively new in the Middle East, the research & development teams have already been working on developing fifth generation networks that can deliver higher data rates over current 4G telecom networks.