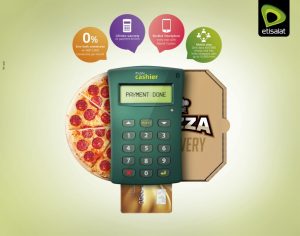 Etisalat has launched its Mobile Cashier service for the Small and Medium Business (SMB) segment in the country. The new service allows for a hassle-free on boarding and affordable mobile point-of-sale that enables these businesses to accept card payments from their customers, and at the same time enjoy mobile business plan benefits anywhere in UAE, said the company.
Etisalat's Mobile Cashier service transforms merchants' smart devices like phones or tablets into business-grade point of sale terminals, enabling them to accept debit, credit and pre-paid cards in a secure and simple-to-use environment.
The Mobile Cashier service is enriched from its first inception and improved to specifically cater for the needs of the SMB segment. The latest offering includes bundled point-of-sale terminals, attractive mobile voice and data plans, a free smartphone every year, and for the very first time in UAE zero bank commission.
Esam Mahmoud, acting senior vice president, Small and Medium Business, Etisalat said, "Technology and innovation are key drivers of financial inclusion and especially today with mobile penetration rates continuing to grow there is immense potential to tap into finding more ways to converge payments with mobile."
"With today's launch we look forward to continuing building on our success and rolling out secure smart payment solutions that are more convenient, reliable and affordable for our SMB customers. We believe all SMBs should have access to digital payments and we will continue to work alongside to ensure that they are able to use such innovative services to enhance their business value in the digital world."
Mobile Cashier is simple and portable; users download the application on the smartphone, connect a pocket-sized card reader and can start accepting credit, debit or prepaid card payments in retail stores or on the go.
Etisalat's Mobile Cashier give SMBs a variety of options starting from an entry 'standalone' plan of AED 119 per month that entails payment devices (a card reader and a portable printer) provided with a lifetime warranty. In addition to the 'standalone' plan, customers can opt for the monthly bundled 'Essential' plans, which includes every month's zero bank commission, local and international minutes, mobile internet, intra-company calling, and a free smartphone every year. The 'Essential' plans start from as low as AED 199 per month.
Etisalat's Mobile Cashier is approved by TRA and compliant with all the security standards in the payment industry including Europay, Mastercard and Visa (EMV) and Payment Card Industry Data Security Standard (PCI DSS).