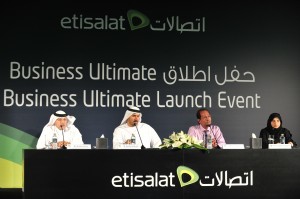 Etisalat on Monday reaffirmed its commitment to the UAE's SME sector with the announcement of revamped business packages for mobile.
The new plans, dubbed 'Business Ultimate', can be customised to target specific SME needs, Etisalat said. Four bundled packages, starting at Dh99 per month and going up to Dh999 per month, comprise of local and international calls, SMS, local data and smartphones at a zero up-front cost.
The smartphones on offer constitute the latest models, and include the Samsung Galaxy S4 LTE, the BlackBerry Q10 and the iPhone 5. All of these devices will be offered exclusively with the Business Ultimate plan for the first month.
Etisalat said it wanted to offer superior propositions to the SME market with the Business Ultimate plans, so even the Dh99 package offers 130 minutes of local and international calls each, 130 SMS messages and 130 MB of local data. International calling add-ons are at rates from 50 fils per minute, and are charged on a per-second billing basis. Per-second billing also applies to the in-package local and international calls.
Packages costing Dh199 per month and Dh399 per month are also available, Etisalat said.
In terms of customisation, customers can choose from multiple add-ons based on their usage patterns and needs. For example, they can pay Dh60 extra for 1GB of data, Dh149 for 5GB, or Dh219 for 12GB.
"The Business Ultimate plans are designed to offer businesses better network coverage, calling and messaging values, which are top priorities while choosing a service provider today," said Abdulla Ebrahim Al Ahmed, Senior Vice President, Business Solutions, Etisalat.
"These users do not have to compromise on quality, after-sales service support to get better value for their money. The packages are transparent, providing these users offerings which are required for the long-term growth of the organisation."
John Lincoln, Senior Vice President, Business Marketing, Etisalat, added that the UAE's SME sphere was in need of a better mobile service offering.
"SMEs currently represent a significant part of the business community in the UAE," he said. "The top priorities for SME customers are to lower capital expenses, economise international calling and also avail the latest devices to increase productivity.
"Etisalat has always strived to provide best-in-class solutions offering value to their business, at the same time meeting their dynamic demands and requirements."