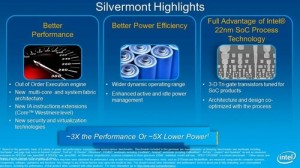 Intel's upcoming Atom chips with new CPU architecture will be up to three times faster and five times more power efficient than their predecessors and break the "myth" that ARM processors are more power efficient, Intel said.
Intel expects the new architecture, code-named Silvermont, to be in smartphones, tablets, PCs and servers starting this year. Atom chips code-named Bay Trail will appear in tablets this holiday season. They will support the Android and Microsoft operating systems.
Tablet chips based on Silvermont are two times faster on single-threaded performance than comparable chips based on the current Atom architecture code-named Saltwell, said Belli Kuttanna, an Intel fellow during a briefing Monday that was webcast. Using the same metric, Kuttanna said that Silvermont tablet chips use 4.7 times less power than their predecessors.
Bay Trail chips will also appear in hybrid laptops with detachable and folding screens, and in low-cost desktops priced from $200 to $599. Users can choose between long battery or performance in Silvermont smartphones or tablets, Kuttanna said.
"Silvermont is a complete redefinition of the Atom architecture," Kuttanna said.
Silvermont CPUs can scale up to eight cores and represent the first major redesign of the Atom architecture since the first netbook chip release in 2008. Atom chips with Silvermont will also include new performance and power management features.
Silvermont comes at a time when the chip maker is trying to find its footing in the smartphone and tablet markets. Intel hopes that Bay Trail will attract a new set of PC buyers and give it a legitimate shot to compete against ARM, which rules the smartphone and tablet markets.
Previous Atom chips were panned for poor performance compared to ARM, whose reputation lies with maximising power efficiency on chips. Intel has maintained that it has already caught up with ARM on power efficiency with the recent Atom chips code-named Medfield, which are used in smartphones.
But during the webcast, Intel Chief Product Officer Dadi Perlmutter said that Atom chips based on Silvermont will offer better performance-per-watt and break the "myth" that ARM processors are more power efficient.
"We see that this kind of solution will be even better," said Perlmutter, who is also the executive vice president and general manager of the Intel Architecture Group.
Silvermont CPUs incorporate a number of improvements. Out-of-order execution enables more efficient processing of instructions via clock cycles and chips will have more internal bandwidth, with a faster fabric that connects the CPU to other processors such as GPUs. In addition, Silvermont is able to move data faster from the shared cache into DRAM, which enables quicker task execution.
Silvermont also includes the latest virtualisation and security technologies, some of which has been borrowed from previous Intel chip architectures for servers and PCs.
The cores are also flexible on performance and power consumption. CPU cores can be clocked up or shut down if idle. Intel said the flexibility provided by its cores is a better option than ARM's Big.Little, which incorporates different types of CPU cores to meet power and performance needs. Samsung's Exynos 5 Octa eight-core processor incorporates a Big.Little design with four high-power cores for demanding tasks and four low-power cores for tasks MP3 playback and voice calls.
With Intel's chip, no switching would be needed between low-power and high-power cores to meet different performance needs, Kuttanna said. A single Silvermont core can cover different ranges of power and performance, with no algorithms required to switch between cores.
"We can go up and down the range and cover the entire performance range," Kuttanna said. "You don't pay the complexity price."
The new architecture is also able to share power between CPUs, graphics processors and other cores in a chip. Algorithms can also monitor power delivery, thermal and electrical features, and bring power consumption down based on the device type. Tablets and smartphones will also be able to resume from idle mode a lot quicker with new Silvermont features.
Atom chips based on Silvermont will be made using the 22-nanometre process, in which a 3D transistor allows more transistors in a smaller space. The chip will be smaller and more power efficient than the current Atom chips code-named Clover Trail, which are based on the 32-nm process.
Intel is advancing to the 14-nm process later this year, but the company hasn't said when new smartphone and tablet chips based on the process will be released. Intel Atom's chips made using 14-nm manufacturing technology are called "Airmont."