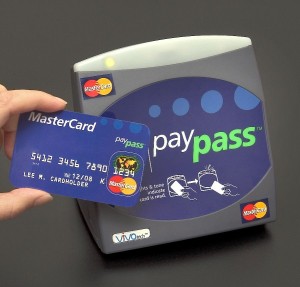 MasterCard Worldwide, in collaboration with Etisalat, a telecommunications provider in the Middle East, Africa and Asia and RIM recently announced a strategic collaboration to launch Near Field Communication (NFC) technology empowered payments in the UAE.
Network International and Oberthur Technologies have supported the development of this service, it was reported.
This latest evolution in mobile payments in the UAE will bring consumers ease, security and speed when making daily payments, the companies said.  Soon consumers will not have to fumble for cash and coins or hand their card over when making payments. Consumers holding an enabled smartphone available in the UAE simply need to tap their smartphone at any MasterCard PayPass- and they can be off with their purchase. Currently there are 341,000 MasterCard PayPass-enabled merchant locations globally.
Transforming smartphones into virtual payment cards, the mobile payments application leverages the MasterCard PayPass platform, which uses NFC technology, to allow the enabled smartphone to securely transmit and receive information wirelessly, representatives said.
The enhanced smartphones, which will be available in the local market from Etisalat, will give consumers the ability to use their phone as a mobile wallet and link their PayPass enabled credit, debit or prepaid MasterCard card accounts to their mobile phone to fund mobile-initiated payments. To bring consumers further protection, consumers will be prompted to enter a PIN on their mobile phone before completing a transaction, sources said.
"This is just the beginning of a new era in how we make payments in the UAE," said Essa Al Haddad, CMO, Etisalat. "The NFC technology used in this application allows a tremendous shift in how we will start to make payments, something that has been talked of for years will soon be a reality. Your mobile could buy you lunch, a cinema ticket, transport, and much more. We look forward to working closely with MasterCard and RIM in shaping the future of mobile payments in the UAE."
Raghu Malhotra, GM, Middle East, MasterCard Worldwide, said, "We are delighted to join forces with industry leaders to make this milestone announcement. This product has the potential to significantly change the way consumers in the UAE make payments.  MasterCard has led the transformation of mobile phones into secure mobile payment devices, providing consumers with a quick, secure and convenient payment option. We are excited that together with Etisalat, we are playing a key role in transforming the payments landscape in the UAE."
Ram Chari, CEO, Network International, said, "Contactless payments represent a new generation in payment technology, with the capability to change the way customers shop at POS terminals. Driven by NFC-enabled mobile phones, this technology will witness increasing penetration in the next couple of years. Having been at the forefront of innovative card management solutions, Network International will be working closely with Etisalat and MasterCard to lead the revolution in payment technologies in the market."
"NFC technology is making BlackBerry smartphones even smarter, whether it's used for building access, public transportation, ticketing, sharing information or mobile payments. As a leader in mobile computing, RIM is proud to work with our industry partners here in the Middle East and worldwide to help enable the world of mobile commerce," said Sandeep Saihgal, MD, Middle East, RIM.
"The UAE mobile market will soon be revolutionised through Oberthur Technologies' expertise in the convergence of mobile, banking and transit industries. The heart of the technology is within the SIM, the secure element, and can be fulfilled by open standard technologies that allow banks and a broad range of service providers to connect to secure and interoperable platforms. We are proud to launch another first with Etisalat and MasterCard" said Thierry Siminger, MD RMEA, Card Systems Division at Oberthur Technologies.