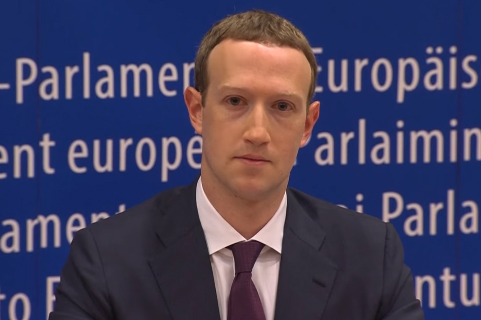 Facebook chief Mark Zuckerberg has recently appeared before the European Parliament in Brussels to answer a few questions about the recent Cambridge Analytica data scandal.
During the hearing, Zuckerberg was expected to convince EU lawmakers that Facebook Inc. is doing enough to counter fake news, foreign interventions into elections and hate speech to prevent the need for further regulation.
Over the course of an hour, Zuckerberg did face sharp inquiries about each of those subjects. However, members of the EU parliament were unhappy with the format of the hearing as it only allowed Zuckerberg a few minutes to answer dozens of intricate questions.
According to reports, Zuckerberg only offered some high-level answers that were largely recycled from his previous US hearings. While the Senate in particular drew criticism for a lack of knowledge, members of the European Parliament posed pointed questions about shadow profiles, the sharing of data among Facebook's different apps, opting out of tracking across the web and many more. Most went unanswered.
Guy Verhofstadt, a Belgian MEP, was one of Zuckerberg's sternest crossexaminer who asked him a brutal question about his legacy, comparing him unfavourably to Steve Jobs and Bill Gates.
"You have to ask yourself how you will be remembered," he said. "As one of the three big Internet giants together with Steve Jobs and Bill Gates, who have enriched our world and our societies, or on the other hand, the genius that created a digital monster that is destroying our democracies and societies."
Verhofstadt also compared the Facebook CEO to the CEO in Dave Eggers's dystopian book The Circle.
"That book is about a Big Data company that is out of control. Not even the owner has control of it. And the data is used in elections. And it seems to me very near to the reality," Verhofstadt said.
"Also, the fact that maybe you have less control or no control about your own company for the moment."
Verhofstadt then questioned Zuckerberg's ability to fix the shortcomings of Facebook when it comes to handling data. "Are you capable to fix it? You've apologised three times already, and it's only May.
"The only way in my opinion to do it—and I'm a liberal, a free marketeer—is to have public regulation to do so," he added. "It's a little bit like with the banks in 2006, 2007, 2008. They said, 'We're going to do self-regulation. Don't bother. We're going to do it ourselves.' The reality is that they didn't do it themselves. And it was needed to have tough regulation."
When once again asked about Facebook's monopoly, Zuckerberg noted that Facebook only controlled six percent of the global advertising market and that people communicate on a wide range of services, forcing the social media firm to continually adapt.