With less than a year to go, GovTech takes a closer look at EXPO 2020 to understand what we can expect when the world's biggest symposium opens its door in October.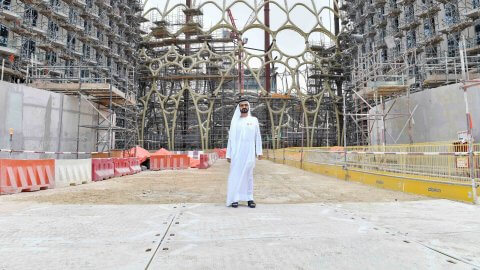 H.E. Sheikh Mohammed bin Rashid Al-Maktoum, Vice President and Prime Minister of United Arab Emirates and Ruler of Dubai has said that EXPO 2020 will 'astonish the world'.
Some onlookers may interpret that as overconfidence, but few would bet against Dubai's pedigree to pull off the spectacular when EXPO 2020 officially opens later this year on October 20th.
Dubai's transformation over the last 20 years has been nothing short of phenomenal. A perfect illustration of this is its dazzling skyline that is dotted with incredible architectural masterpieces, including the world's tallest building, the Burj Khalifa, which quietly keeps watch over this wonderful city.
In November 2013, the general assembly of the Bureau International des Expositions (BIE) met in Paris and selected Dubai as the location for EXPO 2020 – and ever since that decision was taken the Dubai leadership has been focused on ensuring it delivers on its objectives which is to put on an EXPO, the likes of which the world has never seen before.
EXPO 2020 is now just 11 months away, and with all attention and focus now turning to the event – we decided that it would be a good opportunity in this edition of GovTech, to explore what exactly we can expect when the world's biggest symposium opens its door.
EXPO 2020 Dubai will be the first ever hosted in the Middle East, Africa and South Asia (MEASA) region, and is expected to welcome more than 200 international participants, including a record 192 countries. It will connect nations, multinational corporations, non-government organisations and millions of visitors from all over the world, providing an opportunity to see future innovations, marvel at unique architecture, experience diverse cultures, taste cuisines from all over the world, and enjoy live performances, art and other entertainment.
Theme:
The theme of Dubai's EXPO 2020 is "Connecting Minds, Creating the Future". This aims to provide a platform which infuses creativity, innovation and collaboration globally. It is based on the belief from the UAE leadership that sharing innovative ideas and building partnerships will inspire the way we shape our future.
In addition to this, EXPO 2020 will also explore the areas of Opportunity, Mobility and Sustainability – which make up the three key sub-themes of the symposium.
Opportunity:
EXPO 2020 will work towards enabling new 'opportunities' for individuals and communities in an effort to help theme achieve their needs and inspire them to pursue their future aspirations which is aligned closely to the global vision of the UN SDGs.
Mobility:
Dubai's EXPO 2020 will also enhance its focus to providing easier access to knowledge, markets and innovation by working on solutions and technologies that ultimately facilitate the movement (mobility) of people, goods and ideas.
Sustainability:
In terms of sustainability EXPO 2020 will strive to protect and preserve the environment for future generations, especially in light of growing concerns over climate change by sharing sustainable solutions and practices that are not only scalable but also can be adapted globally.
Initiatives:
In the run-up to the opening of Expo 2020 Dubai, a number of initiatives are being organised to promote the development of the theme of the Expo and to encourage broad participation in the event.
EXPO Live:
EXPO Live is an innovation and partnership programme launched by Expo 2020 Dubai to fund, accelerate and promote creative solutions that improve lives while preserving the planet.
With an allocation of USD 100 million, Expo Live harnesses the convening power of a World Expo to demonstrate how innovations coming from all places and people can advance the pace of progress and inspire a more inclusive and prosperous future.
In the build-up to Expo 2020 Dubai, Expo Live is deploying a combination of grants, challenge prizes and knowledge-sharing events focused on the universal drivers of progress: Opportunity, Mobility and Sustainability.
Global Best Practice Programme:
A feature of every Expo since 2010, a series of Best Practices from around the world have been selected to be showcased at Expo 2020 Dubai. Addressing the Sustainable Development Goals (SDGs), Expo 2020's Global Best Practice Programme spotlights tangible solutions that can be replicated, adapted and scaled for greater global impact.
A total of 25 Best Practices in five different categories have been selected by an international jury, jointly chaired by the Secretary General of the BIE, and will be showcased in Expo 2020 Dubai's Sustainability Pavilion.
Expo School Programme:
In the run up to the opening of Expo 2020 Dubai, organisers are engaging youth through EXPO School Programme. Offering fun, engaging initiatives and resources for schools in the UAE, the programme also includes a dedicated visitor centre on the Expo site, offering hands-on experiences for young people to explore Expo 2020 Dubai and its theme.
World Majlis:
The World Majilis series is a thematic dialogue programme aimed at facilitating global conversation and creating connections between people and ideas. Bringing together thought leaders from various government, professional, academics and cultural backgrounds, World Majlis is rooted in the Emirati and Arab tradition of majlis- a meeting space where people share informed opinions to help shape decision for communities.
District 2020/Legacy:
April 2021, will mark the end of EXPO 2020, but more than 80 per cent of the EXPO-built structures will be retained and repurposed for District 2020.
District 2020 will see the urbanisation of the EXPO 2020 site into a smart and sustainable micro city-within-a-city that aims to provide an innovation-driven business ecosystem, while being a diverse and thriving urban community.
District 2020 is curating a diverse mix of tenants that include global corporations, SMEs, and startups, as well as enablers and social and educational platforms. Two of EXPO's Official Premier Partners, Accenture and Siemens, have already committed to establishing a permanent presence in District 2020. Siemens will establish its global headquarters for airports, cargo and ports logistics at the site, while Accenture will open a digital hub.
Global company Merck KGaA announced it will establish a Sustainability Centre, and Shanghai-based Atlas Capital Holding will create a world-leading blockchain campus at District 2020. Expo 2020's Sustainability Pavilion will become a Children and Science Centre. Many other major structures, including Al Wasl Plaza and the Mobility Pavilion, will remain as permanent fixtures in District 2020.
Vision of UAE Leadership:
H.E. Sheikh Mohammad bin Rashid Al Maktoum, Vice-President and Prime Minister of the UAE and Ruler of Dubai has stressed that 2020 will be the year of making great strides in the economic sector, in education, in infrastructure, in the health sector and in the media.
"We will convey the UAE story to the world. In 2020, we will build the future of the UAE, working as one team in the spirit of the union, in the spirit of Zayed and with a spirit that loves top positions and renaissance".
2020 promises to be a historic year and with the 50th anniversary of the UAE being celebrated in 2021, Al Maktoum declared that 2020 will be the year in which the UAE maps out its blueprint for the next fifty years.
H.E. Sheikh Mohammad bin Rashid Al Maktoum said, "In 2020, we will work together, Emiratis and residents, in all sectors. We are united and we can change the equations. We can raise expectations. We want 2020's atmosphere to be similar to that of in 1970 when our founding fathers and their teams were preparing to embark on a new stage and new life" the Vice President said.
The Ruler of Dubai added, "I was there in 1970, the year of creating the union and will also be there in 2020, overseeing the team shaping the next fifty. There will be two committees. The first one will be chaired by Sheikh Mansour Bin Zayed and will be tasked with mapping out the development plan of the next 50 years. The other committee will include Sheikh Abdullah Bin Zayed and Sheikha Mariam Bint Mohamed Bin Zayed to oversee the celebratory activities of the country's Golden Jubilee".
Al Maktoum also said, "Dubai has a strong track record of hosting major international events, and we want to take that to the next level for Dubai Expo 2020. Our aim is to attract 25m visitors, with 17m of those coming from overseas, making the expo a true global event, and one that will generate significant worldwide exposure for participants."