Facebook is entering the dating game, Chief Executive Mark Zuckerberg announced on Tuesday.
During the company's annual developers conference, F8, Zuckerberg announced a new dating feature.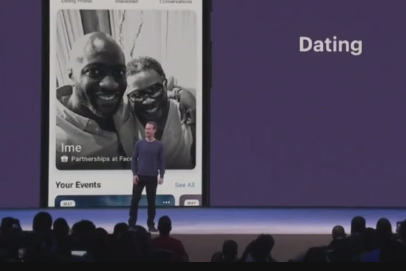 The service, which Facebook had considered offering for over a decade and will launch soon, could help rebuild its popularity among younger consumers and make people visit the site more often, two key challenges for the business, according to Reuters.
"There are 200 million people on Facebook that list themselves as single, so clearly there's something to do here," Zuckerberg told software developers at Facebook's annual F8 conference.
Through the new feature, users can set up a dating profile with their first name, which the company said won't be visible to friends and will not appear in News Feeds.
The feature is opt-in and users will not be matched with people they are already friends with, according to Facebook.
According to Facebook, with its new dating service, people will be able to browse events and groups related to their interests, such as upcoming concerts or groups for runners. If a user sees an event they'd like to attend, they will be able to "unlock" that event to interact with others attending it.
From there, their dating profile will be shared with other people going to the event who are also using the dating service. They will be able to browse through those users and start a conversation in a private messaging inbox that isn't connected to the Messenger or WhatsApp apps.
Zuckerberg emphasised that the latest feature has been designed with privacy and safety in mind from the beginning," Zuckerberg said during a keynote speech.
Other details about the service are unclear. The dating feature is set to roll out later this year.