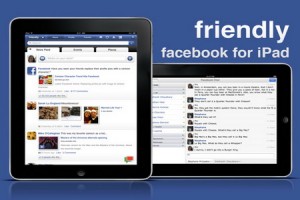 Facebook plans to release an iPad app in the coming weeks featuring a "slick design," new Facebook Chat and Groups functionality, and an "amazing" photo and video experience, according to reports.
The news comes on the heels of another report that Facebook is prepping an HTML 5 web app for iOS devices. Also, Facebook is reportedly working on a new website optimised for the iPad. But Facebook's refreshed site is only meant to be a "supplement" to, and not a replacement for, Facebook's iOS apps, according to The New York Times.

Despite having a popular app for the iPhone, Facebook has yet to produce a version for the iPad. Instead, iPad users have been forced to turn to third-party apps such as Friendly, MyPad and Facely HD or be satisfied with Facebook's regular website.
Facebook's purported new iPad app has been more than a year in the making, according to The Times. Company CEO Mark Zuckerberg is reportedly deeply involved with its design and feature set.