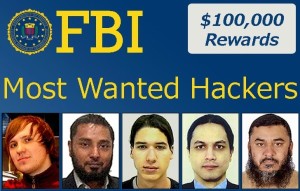 The FBI has offered large rewards for information that could help them catch a clutch of alleged cyber-criminals.
They include an El Salvadoran national accused of selling a Trojan designed to spy on husbands or wives believed by their spouses to be cheating.
The details published on the organisation's website covers all poles of cybercrime including database theft and hacking, telecoms fraud, and malware scams but it is the tale  of Carlos Enrique Perez-Melara that offers the most unusual case.
The FBI has been after Perez-Melara since 2005 when a warrant was issued for his arrest in connection with the 'Lover Spy' spyware program designed to "catch a cheating lover" that was distributed to victims as an electronic greetings card.
It's not known whether the suspect is still in the US but the FBI accuses him of selling his program to 1,000 customers who then used it to infect possibly several thousand others as part of his San Diego-based business.
The two interesting elements of the case are its age – the FBI has had no leads for eight years – and the fact it relates to a malware offence from what might now be described as the early years of complex spyware between 2003 and 2005 when awareness and detection of custom-written spyware was low.
With the US overrun with cybercriminals, the determination to pursue historic cases, even small ones, is now seen by prosecutors as an important deterrent. Anyone with information on Perez-Melara's whereabouts could be in line for a $50,000 (£32,000) reward.
Other cold cases include the $50,000 being offered for information on Andrey Nabilevich Taame, a Syrian national accused of click fraud on a grand scale between 2007 and 2010; $50,000 each for information on Noor Aziz Uddin and Farhan Ul Arshad, Pakistanis accused of involvement in a huge international, organised con that defrauded victims of $50 million.
The largest reward of $100,000 is reserved for Russian Aleksey Belan, accused of raiding customer databases belonging to several large US e-commerce firms as recently as April 2013.
"Throughout its history, the FBI has depended on the public's help and support to bring criminals to justice. That was true in the gangster era, and it's just as true in the cyber era. We need the public's help to catch these individuals who have made it their mission to spy on and steal from our nation and our citizens," said the FBI's Richard McFeely.
"The cyber fugitives we seek have caused significant losses to individuals and to our economy. And cyber crime continues to pose a significant threat to our national security."