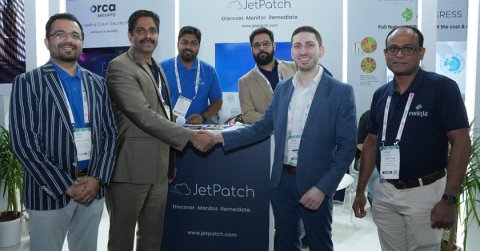 Finesse has partnered up with JetPatch. The partnership leverages the expertise of both companies to deliver comprehensive cybersecurity measures that help businesses reduce risks associated with digital transformation. 
IT Security professionals admit that one in three breaches are caused by vulnerabilities they should have patched sooner. Due to the high number of sophisticated cyberattacks and the constant release of patches from vendors, it becomes increasingly difficult for companies to test these patches across their entire infrastructure, leaving potential holes for hackers to exploit. JetPatch addresses this challenge by streamlining and automating the entire patching and vulnerability management workflow for enterprises. With this proactive approach, businesses can eliminate security flaws early on and maintain continuous compliance across multiple platforms, including Windows, CentOS, AIX, Oracle Linux, Oracle Solaris, AWS, Ubuntu, RedHat, and SUSE. JetPatch has built a strong reputation as a leading patching management company, trusted by renowned businesses.
Eljo J P, CBO & Director  of Finesse says, "We are delighted to partner with JetPatch to provide comprehensive patch management solutions to our clients. As companies increasingly migrate their operations to the cloud, prioritising cybersecurity and protecting against emerging threats becomes critical. By combining Finesse's expertise in digital transformation with JetPatch's advanced patch management solutions, we can help our clients maintain a secure and resilient digital environment".
Todd Kirkland, CEO,  Jetpatch also shared his enthusiasm, saying, "We are delighted to join forces with Finesse to provide businesses with automated patching solutions. JetPatch automates vulnerability remediation to help enterprises proactively eliminate security flaws and achieve continuous compliance across environments. By combining JetPatch's expertise in automated patching solutions with Finesse's digital transformation services, we can offer businesses a comprehensive solution that addresses their evolving security needs".
Pavin Varughese, Sales Director – EMEA & APAC, JetPatch says "JetPatch's expertise in providing effective patch automation solutions, combined with Finesse's extensive experience in system integration, will undoubtedly bring immense value to businesses in the region. This partnership is poised to deliver enhanced cybersecurity measures and streamlined operations, empowering organisations to proactively address vulnerabilities and strengthen their overall IT infrastructure. I look forward to witnessing the positive impact that JetPatch and Finesse will make together in the Middle East market".
This partnership comes at a time when organisations are increasingly embracing digital transformation and facing growing cybersecurity challenges. With Finesse and JetPatch working together, businesses can confidently navigate their digital journeys while safeguarding their digital infrastructure.