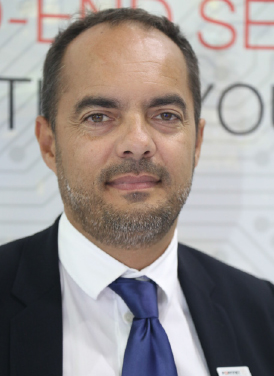 GITEX 2015 sees Fortinet, the cyber-security solutions provider, launching its new Secure Access Architecture. This new framework expands the company's internal segmentation cyber-security strategy, enabling organisations to segment devices and the access layers across wired and wireless networks.
"The Secure Access Architecture provides a broad platform of integrated, high-performance cyber-security solutions that span from the client to the cloud and everything in between," says Yann Pradelle, Vice President EMEA South, Fortinet.
Over the last couple of months, the security vendor has had a number of highlights. It has announced the acquisition of Wi-Fi networking company, Meru Networks, in May 2015.
"The acquisition is aligned with Fortinet's secure wireless vision and enterprise growth focus, broadens the company's solutions portfolio, and expands its opportunity to uniquely address the $5 B global enterprise Wi-Fi market with integrated and intelligent secure wireless solutions.
"We expect this to accelerate our innovation through the delivery of new solutions and services to help enterprises of all sizes deploy, manage and secure wired and wireless networks in a mobile era. We believe the extension of our market-leading end-to-end security platform will increase our growth opportunities and benefit our customers and partners."
The company has also invested across the Middle East region in local resources in sales, pre-sales, marketing and has opened a new Technical Assistance Centre for the EMEA region in Dubai. Through this support centre, the vendor aims to more effectively address the assistance needs of its customers across the region and primarily in KSA.
In terms of channel initiatives, the company has recently signed up Redington Value as its new value-added distributor for the Middle East region.
"The strategic partnership is in line with our aggressive regional growth and expansion plans. With this partnership, our security solutions will now be distributed by Redington Value, Exclusive Networks and Oxygen," adds Pradelle.
In 2014, the company has had an increase of 25 percent growth year-on-year compared to 2013.