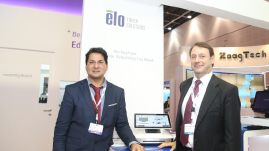 Elo Touch Solutions, a company specialising in touch technology, is showcasing its latest products and solutions at this year's GITEX Technology Week. The company highlights that it is focusing on sectors such as hospitality, transportation and F&B.
Mohamed Berrihi, Regional Sales Manager, Middle East, Elo Touch Solutions, says, "This year is very important for us as we are putting our focus on the GCC region. We believe that there will demand for touch technology and interconnectivity in this region because of the upcoming mega events like the Expo 2020 in Dubai and the World Cup 2022 in Qatar."
Another primary aim of the company during its participation at the mega technology event, according to Berrihi, is educating their customers and distributors. "We also aim to get new partners and potential new distributors here in the region. Lastly, is meet up and engage with our existing customers and partners who are also here at the event like the Dubai Police and the RTA among others, and tell them about what more we can offer them," says Berrihi.
Among the products that Elo Touch is showcasing at the event include its array of touch screen monitors which sizes range from 32-inch up to 70-inch. The company is also featuring its point of sales (POS) device called Elo PayPoint; and its portfolio of interactive digital signage called the i-series include 10-inch, 15-inch and 22-inch monitors.
Berrihi also discusses that interconnectivity is one of the biggest trends that they are looking at in the coming months.
"Interconnectivity is very important in this region, especially in the hospitality sector. We believe that touch technology can improve service offerings that key players in this industry have."
Also sharing details about the company's products and offerings at the Elo Touch stand, is the company's Director of Sales for Emerging Markets Mike Sigoma.
Elo Touch is at InfoComms, Sheikh Saeed Hall.