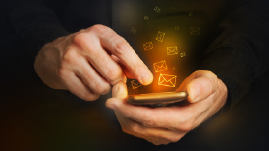 Mobile broadband networks will support more than two-thirds of all mobile connections across the Arab states of the Middle East and North Africa by 2020, according to a new GSMA study published at the GSMA Mobile 360 Series – Middle East conference being held in Dubai this week.
The new study, 'The Mobile Economy – Arab States 2015', finds that there will be 350 million 3G/4G mobile broadband connections in the Arab states by 2020, accounting for 69 per cent of the region's total connections by 2020, up from just 34 per cent at the end of 2014.
This rapid migration to higher-speed mobile networks is being driven by operator investments in 3G and 4G networks and rising smartphone adoption. The number of smartphones connections in the region is forecast to almost triple between 2014 and 2020, reaching 327 million.
Over the last four years, mobile operators across Arab states have spent more than $40 billion on capital investments, or approximately 18 per cent of total revenue. Investments have focused on improving network coverage, increasing network capacity, and deploying 3G/4G mobile broadband networks. According to the report, 3G networks are now live in every country in the region except one, while there are 23 live 4G networks in ten countries in the region and 4G launches planned in a further eight markets.
The Arab States encompasses 18 markets across the Middle East and North Africa. The number of unique mobile subscribers in the Arab States as a whole reached 199 million at the end of 2014, equivalent to 54 per cent of the region's population. However, the levels of market maturity vary considerably across the region in line with economic development; the Arab States are home to three countries – Bahrain, Kuwait and the UAE – that have penetration rates above 75 per cent, but also four (Palestine, Sudan, Syria and Yemen) where fewer than half the population has a mobile subscription.
In 2014 the mobile industry in the Arab States made a total contribution of $115 billion to the regional economy in value-added terms, equivalent to around 4 per cent of the region's total GDP. It is forecast that this contribution will grow to $160 billion by 2020, equivalent to 4.5 per cent of projected regional GDP by this point.
The mobile industry is also a key source of jobs and public funding in the region. It is calculated that the industry directly and indirectly supported 1.3 million jobs across the Arab States in 2014, a figure expected to surpass 1.5 million by 2020. The mobile ecosystem also made a total tax contribution to the public finances of the region's governments of $12.6 billion in 2014, excluding regulatory fees and spectrum auction payments. It is forecast that this contribution to public funding will rise to $14.3 billion by 2020.