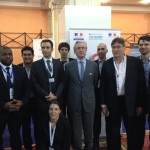 Six French-Tunisian partners will have a presence at GITEX Technology Week for the first time in a dedicated part of the French pavilion to showcase their products and services.
This will include solutions spanning Big Data, cyber security, cloud and gaming software.
Launched in July 2013, Alliance franco-tunisienne pour le numérique (AFTN) intends to forge dynamic business partnerships between French and Tunisian companies. The AFTN has brought together IT companies from France – QoS Design, The Digitial Company, Mobile Powered and Echo, and IT companies from Tunisia – Cynasys, Get'IT, Prisma, NGI Maghreb, Sanabil and Techlimed; and IT universities from both the countries – The Institut MinesTélécom and Esprit, on a common platform.
Some duos will also showcase real-time content management solutions for the education sector as many French and Tunisian universities present on the premise intend to gain academic, business and technological partnerships.
The Alliance was born from a specific need – France lacks IT specialists while Tunisia is unable to offer its young graduate jobs. The goal is to make French companies cooperate with Tunisian companies in a win-win principle. The Alliance is now helping the 'couples' enter newer markets in the French and Arabic speaking countries of Africa and in Middle East.