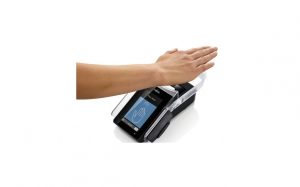 Fujitsu has launched PalmSecure ID Login, a new biometric authentication solution that helps organisations secure their networks against unauthorised access, while also reducing the risk of attack from hackers and identity thieves.
According to the company, PalmSecure ID Login integrates Fujitsu's highly secure biometric palm vein authentication technology into corporate network environments using Microsoft Active Directory – helping boost IT security while also making it easier for users to log on to their system without needing to remember complex passwords, which need to be changed on a regular basis.
To log on to their PC, or authenticate for internal system access, PalmSecure ID Login users simply hover their hand over a contactless palm vein scanner – already built in to a number of Fujitsu Lifebook notebooks and Stylistic 2-in-1 tablets, and available as a stand-alone USB pluggable device. Enrolled users can log in from any device within a corporate network, since PalmSecure ID Login is connected to Microsoft Active Directory, which centrally manages and stores all access data, including biometrics.
The Fujitsu PalmSecure technology works by capturing an infrared scan of oxygen-depleted blood veins within the palm of a hand. The technology combines the convenience of a contactless sensor with biometric security. For users, the system is more convenient and faster than typing a password – with identity verification usually completed within one second, said the firm.
Thomas Bengs, director and head of Biometrics, Fujitsu, EMEIA, said, "Passwords are forgotten, lost and get stolen, which makes them a serious vulnerability in any organisation's security arrangements. Replacing password logins with palm vein biometric authentication technology reduces the risk of misuse from stolen or unsecured passwords, including the worst-case scenarios of catastrophic hacker attacks, identity fraud and large scale data theft. It's also impossible to forget your credentials, since they're in the palm of your hand – unlike a smart card, or a difficult to remember password."
Fujitsu PalmSecure is already being deployed across the world by government organisations, in data centres, by healthcare providers, at airports and in banks for controlling mission-critical site access, time logging, web access, mobile apps and network login. The technology operates 'live' in real-time and is resistant to forgery, since authentication includes checking that blood is still flowing, said the firm.
Fujitsu PalmSecure ID Login is available to order across EMEIA from June 2017, with availability in Oceania and the Americas to follow. Fujitsu PalmSecure ID Login is sold directly from Fujitsu and through the firm's partners with pricing varying according to geographical regions.