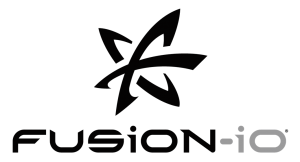 PCIe flash module maker Fusion-io has unveiled software than can combine NAND flash storage capacity in industry-standard servers into a single pool of high-performance network storage.
The company's new Fusion ION acceleration software runs on tier 1 servers that contain Fusion-io's ioDrive modules, allowing them to act as primary data storage targets — essentially, flash appliances.
Currently, Fusion-io's ioDrive modules act as internal storage capacity for the servers in order to speed up performance compared to what hard disk drives would offer.
Fusion-io's ioDrive PCIe cards come in ioMemory modules (essentially DIMMS) that hold up to 10TB of data in a 1U (1.75-in. high) form factor. The ioDrive modules also come with either lower-performing, lower-cost multi-level cell (MLC) NAND flash or higher-end, single-level cell (SLC) NAND flash.
According to David Flynn, co-founder and CEO of Fusion-io, a 1U server using the software can deliver more than one million I/Os per second (IOPS), up to 6GBs throughput and under .06 milliseconds of access latency. "The implication of this is huge," he said. "With just software you can have off-the-shelf servers behave as network storage servers and offering open platforms to customer."
Fusion-io claims its software, working in conjunction with its ioDrive memory modules, can boost application performance from 2X to 25X due to the use of NAND flash versus hard disk drives within the servers.
For example, Fusion-io claims its ION software was tested by "a leading global media and entertainment" company to accelerate a number of key applications, achieving a 25x improvement in SQL Server performance, an 8x improvement in transcoding performance and up to 40x acceleration improvements on a variety of other applications.
"Software-defined solutions are rapidly replacing specialized hardware throughout the datacenter, and Fusion-io has been at the forefront of this transition since our founding," Flynn said. "ION software combines customers' preferred server platforms and ioMemory to deliver greater performance than even dedicated flash appliances, while also improving the efficiency of high performance storage arrays."
The ION software can be used to deliver storage traffic from open server platforms over Fibre Channel, InfiniBand and iSCSI using standard networking protocols.