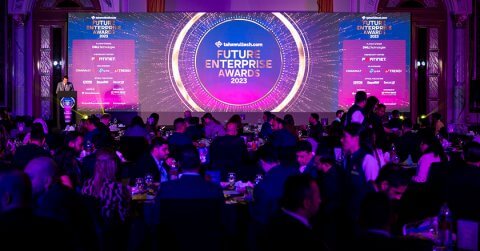 This prestigious awards event came to life last night at the impressive Habtoor Palace Dubai, LXR Hotels & Resorts, as enterprises and IT leaders gathered for the hotly anticipated Future Enterprise Awards 2023.
Sponsored by Platinum Sponsor- Dell Technologies, Cybersecurity Partner – Fortinet and Gold Sponsors – Commvault, TP-Link & Trend Micro, this prestigious event celebrated innovators who helped pioneer revolutionary new solutions, leveraged disruptive technologies to transform the business operations of their customers and helped cultivate an environment, which has allowed innovation, creativity, and entrepreneurship to flourish.
During his opening address, CNME Editor Mark Forker praised the leadership shown by the IT industry across the Middle East region over the last 12 months.
However, he outlined how harnessing the power of Generative AI would be a key focus over the 12 months. "McKinsey has said that the organisation of the future will be enabled by Generative AI, but will be led by people. However, it warned that Generative AI can empower people—but only if leaders take a broad view of its capabilities and deeply consider its implications for the organisation. And McKinsey research shows that gen AI could enable automation of up to 70 percent of business activities, across almost all occupations, between now and 2030, adding trillions of dollars in value to the global economy".
"The Future Enterprise Awards are designed to highlight the technology leaders and enterprises that are pushing new boundaries as to what is possible in the new digital economy. Over the last 12 months they have demonstrated incredible leadership and vision in their pursuit of new innovations and technologies in a bid to transform our society. On behalf of CPI Media Group, we want to extend a sincere thanks to all our sponsors for making this event happen, and once again to all our trailblazing winners", Kausar Syed, Group Publishing Director, CPI Media Group.
Another highlight was the announcement of the winners of the Future Enterprise Awards 2023. The objective of the awards is to pay homage to the companies and individuals from the IT ecosystem in the Middle East that have demonstrated phenomenal excellence in the field of IT and technology.
The winners of the Future Enterprise Awards for 2023 are:
Trend Micro-Best Artificial Intelligence Cybersecurity Vendor of the Year 
Vectra AI-Best AI Security Vendor of the Year
Barracuda Networks-Best AI Email Security Vendor of the Year
Dataiku-Best AI Vendor of the Year
Raqmiyat-Best AI Analytics Solution of the Year
HAQQ Network (Islamic Coin)-Best Blockchain Infrastructure of the Year
Fortinet-Best Enterprise Security Vendor of the Year
Mindware-Best Enterprise Value Added Distributor of the Year
D-Link-Best Networking Vendor of the Year
CirrusLabs-Best Agile Product Management Practice of the Year
Ingram Micro-Best Value Added Distributor of the Year
Pure Storage-Best Storage Vendor of the Year
Epicor-Best Cloud ERP Vendor of the Year
SolarWinds-Best Software Vend of the Year (Observability)
Cloudflare-Best Cloud Vendor of the Year
ServiceNow-Best Digital Transformation Vendor of the Year
Intelligent Security Systems-Best Security Surveillance Leader of the Year
Minnapad-Best Web3 Project of the Year
Almoayyed Computers Middle East-Best Innovation Vendor of the Year
HPE Aruba Networking-Best SASE Vendor of the Year
Everdome-Metaverse of the Year
Cloud4C-Best Mission-Critical Cloud Partner of the Year
Avaya-Best Customer Experience Solutions Vendor of the Year
Logitech-Best Innovative Workspace Solutions Vendor of the Year
Riverbed-Best Observability Vendor of the Year
Allied Telesis-Best Networking Solutions Provide of the Year in Telecommunications
TP-Link-Best Wi-Fi Solutions Vendor of the Year
Commvault-Best Multi-Cloud Enterprise Data Protection of the Year
AVEVA-Best Sustainability Changemaker of the Year
Orange Business-Smart Cities Solution Provider of the Year
DELL Technologies-Best End to End Solutions Vendor of the Year
DELL Technologies-Best Technological Deployment in Education
Omnix International-Best Digital Transformation Solutions Provider of the Year
Positive Technologies-Best Result-Driven Cybersecurity Vendor of the Year 
Redington-Best Cloud Distributor of the Year
Veritas-Best Cloud Data Management Vendor of the Year
Huawei-Best Technological Innovation in Digital Transformation of the Year
IFS-Best Cloud Enterprise Software Vendor of the Year
Taaleem-Best Technology Implementation of Year in Education
Omantel-Best Technology Implementation of the Year in Telecommunications
Bayview-Best CX Innovation Deployment of the Year
Dubai Electricity & Water Authority (DEWA)-Customer Happiness Entity of the Year
Saudi Civil Affairs-Best Digital Transformation Project of the Year
Ministry of Finance – Kuwait-Best Collaboration Deployment of the Year
Lenovo-Best Hardware Vendor of the Year
Dubai Aviation Engineering Projects (DAEP)-Best Technology Implementation of the Year in Government
M.H. Enterprises LLC wins the Best Technology Implementation of the Year in Logistics
Dubai Municipality – Command & Control Centre-Best Technology Implementation of the Year in Government
Dubai Islamic Bank-Best Technology Implementation of the Year in Banking
Vinay Sharma, Gulftainer-Digital Transformation Leader of the Year
Alex Constantinidis, Qatar National Bank (QNB)-Chief Information Security Officer of the Year Award
Fadi Costantine, Sennheiser-Technology Rising Star of the Year Award
Ali Serdar Yakut, Emirates Group-Outstanding Technology Leader of the Year Award
Benjamin Beaston, The Commercial Bank (P.S.Q.C) (CBQ)-ICT Transformation Leader of the Year
Ahmed Wattar, Alfa Medical Group (AMG)-Future CIO of the Year
Asef Sleiman, CNS Middle East-Technology Business Leader of the Year
Hamed Obaid, Sebait Naseib Areidat, Central Bank of the UAE-IT Visionary of the Year
Walid Yehia, DELL Technologies-Technology Visionary of the Year
Maya Zakhour, NetApp-Woman Executive of the Year
Bahaa Indary, Raqmiyat-Innovation IT Leader of the Year