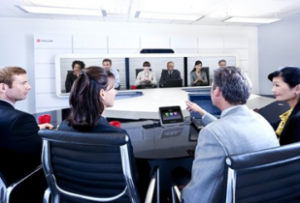 Dubai-based distributor FVC on Sunday announced that it had joined with its partner, Sight & Sound, and telco Orange to launch the Orange Telepresence Centre in Nairobi.
The commercial facility, which features a Polycom OTX 300 Immersive Telepresence Suite, will be hosted at the ESBC's new Business Centre at the Landmark Plaza.
The centre will be used to demonstrate the value of video conferencing, and making communication more efficient, to local businesses, FVC said.
According to the Telepresence Revolution study, commissioned by the Carbon Disclosure Project (DCP) and released in 2010, "telepresence technology can help speed up decision making, improve human resource productivity as well as provide employees with a better work-life balance, as a result of reduced business travel."
Ahmed Youssef, General Manager for East and West Africa, FVC, said the Polycom solution featured in at the new telepresence centre offered all of these benefits.
"Communication is an important tool in business and this video conferencing facility will allow dynamic enterprises in Kenya to communicate and collaborate with partners around the world, save on time, travel and resources," he said.
Rajesh Lakhani, CEO, Sight & Sound, meanwhile, said that the service takes audio/video conferencing "to the next level", by brining the fully immersive telepresence experience to customers.
"Our team of experts has been providing audio/video conferencing solutions to the customers in Kenya and this region for a long time," he said. "Our solutions not only equip conference rooms with this technology but also empower the users by connecting from their smartphones and tablets."