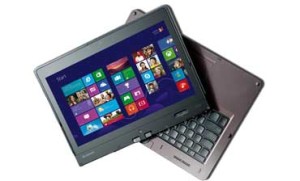 Gartner today projected that the overall decline in shipments of desktop and laptop PC's will be 10.6 percent in 2013, while tablet shipments will grow by 67.9 percent.
The trend toward 'anytime-anywhere' computing has been underway for years, but became suddenly more dramatic with a sharp decline in PC sales in the first quarter of 2013, Gartner said on Monday.
Gartner noted that the shift from PCs to tablets is partly due to a growing enterprise acceptance of the bring your own device (BYOD) trend, which increases the overall use of smaller consumer devices, Gartner said.
In 2013, Gartner expects that 65 percent of all types of computing devices (including smartphones) will be purchased by consumers. That number expected to grow to 72 percent in 2017, Gartner said.
"Mobility is paramount in both mature and emerging markets," said Gartner analyst Carolina Milanesi in a statement.
For 2013, Gartner predicts that 305.1 million desktop and laptop computers will ship, down from 341.2 in 2012. Meanwhile, tablets will reach 201.8 million in 2013, up significantly from 120.2 million in 2012.
Shipments of Windows-based devices will decline by 2 percent in 2013, but rebound in 2014, Gartner projects.
Gartner doesn't expect tablets to out-ship PC's until well into 2014. IDC predicted roughly the same thing in May, but IDC did project that tablets will outsell laptops (not including desktops) this year.
IDC said tablet shipments will grow by 58.7 percent in 2013, reaching 229.3 million, about 27 million more than Gartner projects.
Most analysts agree that there are three basic reasons for the tablet over laptop/desktop trend.
One is cost, as tablets cost about 60 percent less than the average desktop and laptop.
A second reason is that tablets are much smaller and lighter than laptops, and therefore more mobile. IDC said sub-eight-inch devices will make up 55 percent of the tablet market in 2013.
A third reason for tablets' popularity is they function much differently from laptops and are easier to use. They have instant-on capabilities, longer battery life and touchscreens that are only recently available on desktops, Ultrabooks and laptops.