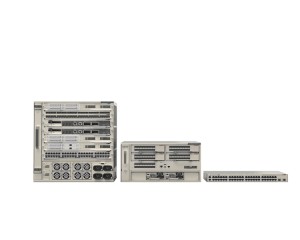 Cisco today revealed a major product refresh for its enterprise network portfolio, calling it the "the biggest network announcement in years".
The new products, which include the Catalyst 6800 switching line, were unveiled at its flagship Cisco Live! 2013 event in Florida.
The networking giant said the new products bring applications and network services software, and hardware networking functions, together to enable its new Enterprise Network Architecture.
The architecture expands the scope of its Open Network Environment (ONE) framework, a portfolio-wide strategy that applies software programmability to ASICs, operating systems, networking functions, and services across the data centre, WAN and LAN.
Cisco is updating its entire service provider and enterprise networking portfolio to become open and programmable, and today's news addresses the campus and branch portion of that transition.
It hopes its ONE framework will protect it in the rising software-defined networking (SDN) era, which threatens its dominance in routers and switches. In SDNs, many behaviour functions are detached from hardware and centrally administered by software controllers, making networks less reliant on specific hardware and operating systems, and more compliant to open-source software and commodity switching.
By tightly linking software programmability of network infrastructure to custom-developed ASIC hardware and hardware-specific operating systems, Cisco believes it can combat the trend.
It will support onePK across its entire enterprise routing and switching portfolio within the next 12 months, beginning with the newly-announced ISR 4451-AX and ASR 1000-AX routers, the company said.
The most significant release is the Catalyst 6800 backbone switching line. An update of the long-running Catalyst 6500, the 6800 is targeted at campus backbone 10/40/100Gbps services. Cisco also revealed a new supervisor engine for Cisco's 4500-E chassis-based access switch, and a new high-end ISR branch router.
Cisco said it is evolving its networking portfolio to provide greater network intelligence, performance and simplicity, which are demands driven by the rising influence of cloud and mobility.
The company added that the Enterprise Network Architecture positions its enormous routing and switching franchise, and much of the company's customer base, for the future of networking.
This future, it said, will evolve around the "Internet of Everything", providing the network infrastructure for an ever-diversifying set of applications that run businesses and people's lives.
"The network is more important than ever before in enabling the user experience in today's applications," said Rob Soderbery, Senior VP and GM, Cisco Enterprise Networking Group. "Network intelligence, simplicity and innovation will be the key factor in unlocking new business opportunities and competitive differentiation for our customers.
"Today's launch of the Catalyst 6800, Catalyst 4500 Supervisor 8E, ISR 4451-AX and ASR1000-AX demonstrate how Cisco's Enterprise Network Architecture is delivering against these promises."
The Cisco ISR 4451-AX is available now; the ASR 1000-AX and 4500E Supervisor Engine 8E are scheduled to be available in July; and the Catalyst 6800 Switch Series are scheduled to be available in November 2013.
CNME Editor Ben Rossi is reporting live from Cisco Live! 2013 in Florida. You can follow live Twitter updates at #CLUS and @ComputerNewsME.