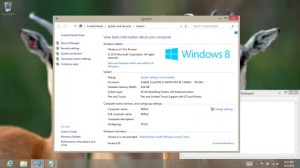 Gartner is giving the thumbs up to Windows 8.1, crediting the operating system refresh with overcoming the major downsides of Windows 8.
Improvements to Windows 8 that will become available next week should prompt businesses to consider deploying it for desktops and laptops and not just touchscreen devices, Gartner analysts say.
While the operating system originally released last autumn is heavily touch-centric, the announced changes that come with Windows 8.1 should be enough to make the new version enterprise-ready, say Gartner analysts Michael A. Silver and Stephen Kleynhans. "Based on the information currently available, we believe Windows 8.1 features could quiet most of its detractors," they say in a blog post.
Those improvements include the ability to boot directly to the desktop rather than the Windows 8 Start screen and restoration of a Start button on the desktop. Ready access to the desktop should make it easier for users to find a familiar interface, and Gartner says that means they will be able to interact with their current apps as they do with Windows 7. "Microsoft has not released many other details, but Gartner expects only minor changes to the Windows desktop, which would ensure high levels of compatibility with legacy Win32 desktop applications," the analysts say.
Gartner recommends that businesses set aside time for testing their most important applications on Windows 8.1 and make sure the publishers of these applications are on board with support for Windows 8.1. "In the future, Windows will likely include more updates like 8.1, perhaps on an annual basis," Silver and Kleynhans say.
They say businesses should consider adopting Windows 8.1 as they replace old PCs so long as they've done testing of these key apps. Internet Explorer 11, which comes with Windows 8.1, will also  require testing with current apps.
Pilot programmes involving Windows 8 are OK to continue, but they should be transferred over to Windows 8.1 preview as soon as possible, they say.