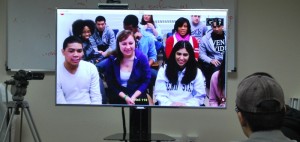 Al Fakhoora, an international campaign aiming to raise awareness of the plight of students in Gaza, today launched its Virtual Majlis initiative to connect Doha students with U.S. students.
The initiative, which uses Cisco TelePresence technology, hopes to create deeper understanding between Gaza and the USA, without stereotyping or prejudice.
The campaign was established in January 2009 and is supported by Her Highness Sheikha Mozah bint Nasser, to endorse higher education and youth empowerment in Gaza.
The Virtual Majlis project, created in partnership with US-based World in Conversation, is designed to give students in Gaza an opportunity to share their experiences and vocalize their frustrations, while enabling students in the West to gain a deeper understanding of their situation.
It will use state-of-the-art videoconferencing to break down geographical and physical barriers, including a virtual 'sitting room' that connects university students worldwide and builds human connections based on first-hand interaction instead of media-led stereotypes.
"Empowering youth is much more than providing them with a degree. We believe our students need to acquire the communication skills necessary to put forward their ideas and realise their dreams. Dialogue not only provides them with a platform to be heard, but also with the essential skill of learning to listen, engage and advocate;  dexterity tools that will empower them  to be better leaders within their communities," said Farooq Burney, director of Al Fakhoora.
Al Fakhoora has used Cisco TelePresence Quick Set C20 and Codec C40 systems to create a multi-point collaborative environment with voice, video and document sharing, to enable students from Qatar Foundation at Education City in Qatar to communicate with students from Penn State University in the US.
Penn State's World in Conversation Project creates dialogues about social and cultural issues that expand perspectives and invite greater understanding between people. The weekly Virtual Majlis sessions, which usually last from one to two hours, are co-hosted by an Al-Fakhoora team in Doha and Dr Laurie Mulvey, sociology lecturer at Penn State University and co-founder of the World in Conversation project.
Each session is planned well in advance to meet the diverse interests of the students who attend, and a student facilitator trained by World in Conversation leads the dialogue to promote critical thinking and explore commonalities among participants. Bilingual students overcome language barriers by translating during each Virtual Majlis session.
The Qatar-based team has an official "Tweeter" for the Virtual Majlis, who posts updates before, during and after each session in order to keep the meetings transparent. The team has also created a Facebook page to further their conversations and create a deeper understanding of each others' lives, and has uploaded videos of Virtual Majlis participants on Fakhoora's YouTube channel. The students in Gaza hope to eventually have their own Twitter rep, blogger and media specialist.
"This is a key demonstration for the critical role of technology in connecting the world and the impact it has on our lives. Cisco TelePresence is helping break down geographical and physical barriers for students in Gaza to engage in a worldwide dialogue to build human dialogue that's not built on stereotyping and prejudice," said Tarek Ghoul, director and GM at Cisco Gulf, Levant & Pakistan