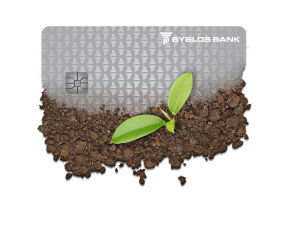 Security vendor Gemalto has teamed up with Byblos Bank to launch the Middle East's first bio-sourced EMV payment cards in Lebanon.
Working with Gemalto's local partner Unilux Cards, Byblos Bank plans to migrate 80% of its entire banking card portfolio to Gemalto's Clarista bio-sourced payment cards within the next three years.
This initiative, is the result of Byblos Bank's investment for a sustainable environment in Lebanon.
The bank has already started offering the Clarista bio-sourced cards as a standard to all new cardholders, and will be steadily switching the existing Byblos Bank debit, credit and prepaid cards to the bio-sourced alternative, as they become due for renewal.
"In deploying these bio-sourced products, not only do we show our deep-rooted commitment for a sustainable and green environment, but we underline Byblos Bank's strategic vision in evaluating and managing the environmental impact of every policy, product or initiative that it takes," said Gilbert Zouein, Assistant General Manager and Head of Group Products, Segments and Marketing, Byblos Bank Group.
"The Clarista bio-sourced payment cards fulfill perfectly our green ambitions and Gemalto was quite simply the only supplier in the market able to offer a product that met our exacting standards for both environmental protection and customer service."
The new cards will be replacing the conventional plastic card body with renewable materials that are recyclable and compostable.
Emmanuel Payraud, Vice President of Secure Transactions for the Middle East at Gemalto said, "Drawing on a range of green banking solutions that we can offer, banks can put their environmental values in practice, reduce business overheads and enhance customer communications."