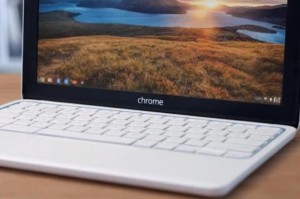 Google and HP have been forced to stop selling the recently launched Chromebook 11 due to faulty chargers.
The HP Chromebook 11 went on sale a few weeks ago at £229 but it has been pulled from the Google Play Store and other retailers including Amazon.
The Chrome OS laptop has a faulty charger which overheats. "Google and HP are pausing sales of the HP Chromebook 11 after receiving a small number of user reports that some chargers included with the device have been damaged due to overheating during use. We are working with the Consumer Product Safety Commission to identify the appropriate corrective action, and will provide additional information and instructions as soon as we can." said the firms in a joint statement.
"We apologise for the inconvenience." they added.
Customers who have already purchased a Chromebook 11 are advised not to use the charger supplied in the box. The device charges over microUSB rather than a proprietary connector.
Most smartphones and tablets use microUSB, so these chargers can be used to give the Chromebook 11 some juice. This is likely to mean the laptop will take a lot longer to charge compared to the supplied leads.