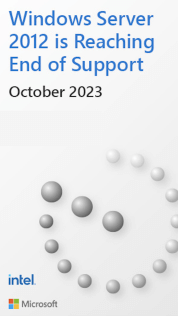 Organisations are digitally transforming their operations and running business-critical workloads that span across cloud, on-premises, and the edge. As a result, the need to secure workloads and data has never been greater.
Windows Server 2022 enables you to run business-critical workloads anywhere — in your datacentre, in the cloud, and at the edge — while staying ahead of emerging security threats and helping secure your data. This release builds on the advancements made in Windows Server 2019, the fastest- adopted Windows Server ever.
Windows Server 2022 delivers advanced multi-layer security, hybrid capabilities with Azure, and a flexible platform to modernize applications with containers.
It also comes with extended hardware limitations to the highest level. Windows Server 2022 supports 48 terabytes of memory and 2,048 logical cores running on 64 physical sockets. Some of the latest processors it supports are including but not limited to:
Intel® Xeon® Platinum Processors that are designed for the most demanding workloads and services from edge to cloud,
Intel® Xeon® Gold Processors which deliver improved 4 socket performance, built-in workload acceleration, advanced security technologies for cloud and network workloads,
Intel® Xeon® Silver Processors, 3rd Gen processors which deliver essential performance, improved memory speed, and power efficiency for data centre compute, network, and storage, and
Intel® Xeon® Bronze Processors that are ideal for entry-level performance and hardware-enhanced security, offering reliability, availability, and serviceability for small business and basic storage servers.
So why is it recommended to upgrade to Windows Server 2022?
Advanced multilayer security
Harden server communications – industry standard SMB AES -256 encryption and better controls.
Get preventative defence for sensitive assets like credentials with Credential Guard and Secure Boot enabled using TPM 2.0.
Protect system integrity from firmware attack with Windows Defender System Guard and isolate critical parts of the system with Virtualisation-based security.
Hybrid capabilities with Azure Arc
Extend Azure management and governance services to Windows Server on-premises using Azure Arc.
Perform virtual machine (VM) lifecycle management for your Azure Stack HCI and VMware environments from a centralised location.
Bring the first cloud native SIEM to all your resources by using Microsoft Sentinel through Azure Arc.
Flexible application platform
Improve container application deployment with smaller image size for faster download and simplified authentication.
Scale containerised applications with Kubernetes using improvements in network policy implementation and integration with industry standard containers.
Accelerate modernisation of .NET applications.
Last but not the least, after-sales service support for Windows Server 2012 / 2012 R2 operating systems will end in October 2023, giving another reason for upgrading to Windows 2022. After this date, updates, service packs and most importantly security updates will not be provided for these operating systems. This means that older operating systems used are now at greater risk of attack.
For more details, you can visit the related page on Microsoft's website. If you want to take a look at the Windows 2022 server operating system before buying, you can try the 180-day evaluation by downloading its ISO.