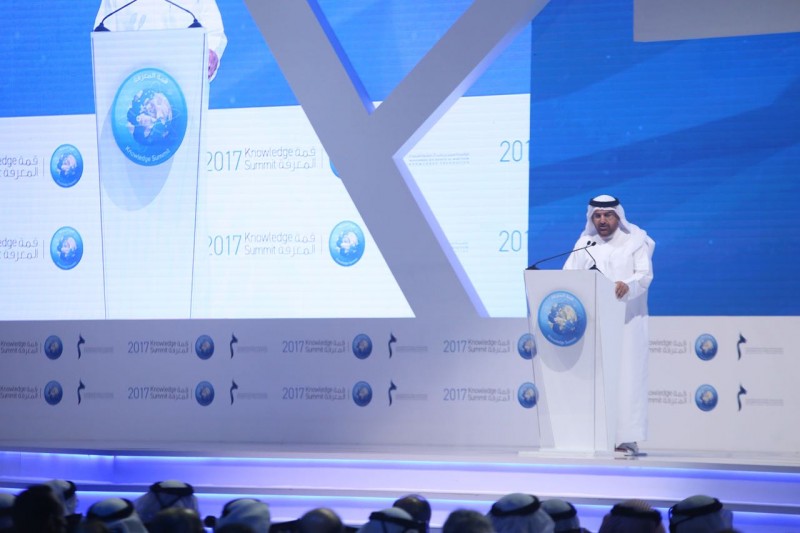 The results of the Global Knowledge Index were launched today at the fourth annual Knowledge Summit at Dubai World trade Centre.
The Global Knowledge Index, launched by the Mohammed bin Rashid Al Maktoum Knowledge Foundation (MBRF) is the "first of its kind" around the world, and brings together research from more than 130 countries across 133 criteria.
The Knowledge Summit, which is discussing the ways that the Middle East needs to adapt to the demands of the Fourth Industrial Revolution, and is held under the patronage of His Highness Sheikh Mohammed bin Rashid Al Maktoum, vice president of the UAE and ruler of Dubai.
Jamal bin Huwaireb, CEO of MBRF, officially inaugurated the conference, as well as launching the Literary In The Arab World initiative in collaboration with UNESCO, which aims to combat illiteracy by providing education for 30 millions Arabs under age of 18 by 2030. "Education best way to fight ignorance and extremism," he said.
Jordanian prime minister Hani Al Mulki, who had spoken at the Knowledge Summit earlier in the day, followed bin Huwaireb on stage by discussing the ways that the foundations for the future had to be laid.
"We need to be able to cope with development and modernism to serve the next generations and provide a good future for our youth," he said. "Maybe I'm from the conservative generation, but we should look at the current and next generation. This generation is looking for what is new. The process of the Fourth Industrial Revolution is not a competition, but a collaboration between people and machines. Science and technological development will empower democracy and peace.
"The world is going to be changed by driverless cars, drones, software that can discover new medicine, 3D printing and e-commerce. This industrial revolution is an opportunity for sustainability. We will live in a world of robotics. We need to focus more on human development and to guarantee the education system for this to succeed. Education is the real criteria for success in this industrial revolution."
Dr Hiroshi Komiyama, chairman of the Mitsubishi Research Institute, and Wendy Kopp, CEO of Teach For All, scooped the scooped the Mohammed bin Rashid Al Maktoum Knowledge Awards.