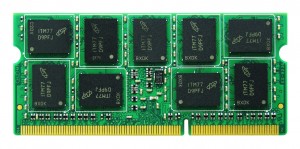 Golden Systems has taken a punt at the rising micro server market by announcing the launch of Kingmax's ECC DDR3 SO-DIMMs in the Middle East. According to the retailer, the new range of DIMMs, equipped with an error check and correction (ECC) function, can increase system stability.
They are specifically designed for micro servers that are confined by space or embedded systems that execute critical missions, the retailer added.
"Micro servers simplify structure, save cost and reduce space," said Chantelle Tavid, Marketing Manager, Golden Systems. "While ECC SO-DIMM is compact, it is a perfect fit for a micro server's structure."
Tavid drew close attention to the range's ECC technology, which checks whether or not the data sent to memory is correct. When errors occur, the device can automatically correct them or else ask the system to resend the data. Tavid said that this avoids the risk of sudden system failures due to memory error.
In terms of speed, Kingmax's new DIMMs run at 1,333 MHz and 1,600 MHz, at a capacity of 4GB and 8GB. An energy-efficient, 1.35V version is also available, which, Kingmax claims, can reduce power consumption by up to 15% when running the SO-DIMM.
Elsewhere in the family lies the VLP DDR3 Registered DIMM. Golden Systems said that registered DIMMs are for mid-range to high-end servers, and so the VLP DDR3 Registered DIMM is specifically designed for a blade or 1U rack server. With a height of 18.75 millimetres – 35.% lower than a standard registered DIMM, according to Golden Systems – this DIMM should improve the reliability of a heat-sensitive system, thanks to its small size.
Kingmax pointed out that all of its server DIMMs meet JEDEC standards and are compatible with all the major server boards.