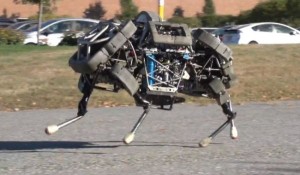 Google has acquired Boston Dynamics, a company that builds robots that mimic the movements of humans and animals with stunning dexterity and speed.
Boston Dynamics is the eighth robotics company that Google has acquired in the past six months, according to The New York Times, which first reported the news on Friday. Earlier this month, it reported that Google has named former Android chief Andy Rubin as the company's lead for its robotics projects.
"We are looking forward to this next chapter in robotics and in what we can accomplish as part of the Google team," Boston Dynamics co-founder Marc Raibert said.
On its YouTube channel, Boston Dynamics has videos of its robots, including WildCat, a four-legged robot designed to run fast in all terrains, Cheetah, which tops 28 miles-per-hour, and Petman, a human-like robot that balances itself as it walks, squats and does calisthenics. It also simulates human physiology by controlling its temperature, humidity and sweating, according to the company.
Other robots developed by Boston Dynamics include the insect-like Rise, which climbs vertical surfaces, and SquishBot, described as "a shape-changing chemical robot" that can move "through tight space." The company also developed the DI-Guy software tools for simulating human reactions and movements in different scenarios and events.
Boston Dynamics, based in Waltham, Massachusetts, was founded in 1992 by Raibert and colleagues from the Massachusetts Institute of Technology. Its customers include all branches of the U.S. Armed Forces, U.S. government contractors and private-sector companies.
Originally published on
IDG News Service (Miami Bureau)
.
Click here to read the original story.
Reprinted with permission from
IDG.net
. Story copyright 2018 International Data Group. All rights reserved.